= 50)" :class="navScrolled ? 'lg:mt-20' : 'lg:mt-32'" x-transition >

eBooks
A Broker's Guide to Maximizing the HR Relationship [eBook]
Everything to know about the state of the benefits landscape, challenges, and opportunities from the perspective of the HR professional.
by GoCo - September 15th, 2022
Introduction
The benefits landscape is constantly evolving, but its changes (and challenges) have become more pronounced since the pandemic. There are a lot of moving parts to consider, from relationships with clients to how benefits impacts business objectives. We wanted a behind-the-scenes look at how other organizations view the benefits landscape, so we asked over 500 HR professionals for their thoughts.
Our survey participants come from companies ranging from 1 to 1000+ employees and manage benefits at their organization. Regardless of company size, HR department size, or overall satisfaction, we found that all HR professionals generally experience the same challenges, views, and opportunities when working with benefits and brokers.
Here's what we learned from HR professionals about their benefits brokers.
To continue reading, please enter your work email
The Impact of Benefits on Businesses
Employee benefits play a huge role in overall business success. HR departments say their benefits package is very important for overall employee satisfaction.
Broken down, employers recognize that benefits impact several key business objectives: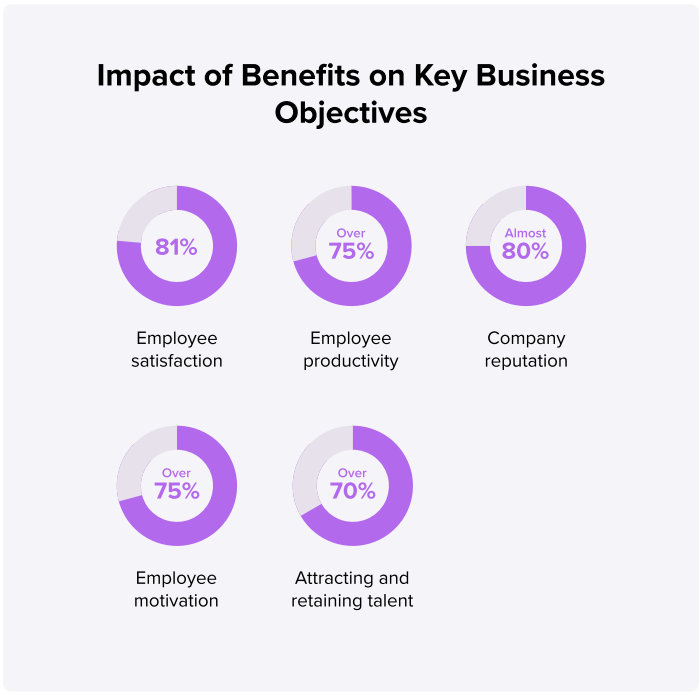 Benefits has a ripple effect throughout an organization. It impacts both ends of the employee spectrum, from recruitment to retention. A strong benefits package (especially one that offers more than basic medical coverage) can help recruit better talent and retain it for the long term.
Recruiting and retaining quality employees directly contribute to a business's overall success. Happy employees are more productive and motivated, which can boost a company's reputation. Satisfied employees also usually feel empowered to do their best work and feel valued by their employers. This can also have a positive effect on a company's reputation and its image as a great place to work.
How HR Views Benefits Brokers
The role of a benefits broker has a huge impact on an organization, its success, and employee satisfaction. In the last decade, the role of a broker has increased significantly beyond benefits planning. Companies now view brokers as advisors and rely on them to positively impact the business.
According to the survey, one in five HR leaders would switch brokers for one with a more consultative approach. They look at brokers as guides, not just service providers. They want to know the broker has their best interests in mind, so offering insights, recommendations, and information even without being asked will reflect value to the client.
To illustrate their value, three out of every four (77%) say they use their broker for more than just open enrollment and benefits planning. What's more, 41% say their broker is a strategic adviser to overall business objectives.
The role of the benefits broken cannot be overstated. Overall, 62% of HR professionals say a benefits broker is important or very important to their business, with less than 3% saying a broker is not at all important to their business. While the work of an HR professional is never truly "done," having a strategic partner to turn to for some of the heavy lifting is indispensable.

Employee Benefits and Open Enrollment Challenges
Finding a Plan that is Cost-Effective
According to our findings, the greatest challenge HR departments face regarding benefits is finding a plan that is cost-effective.
With healthcare costs out of control, this challenge is only growing. Premiums continue to increase year after year while companies are asked to offer more benefits than before. To compound matters even more, the Great Resignation has made many employers reluctant to force a larger share of the expense on their employees. It's hard enough as it is to recruit and retain talent. Many employers feel like increasing the employee's share of premiums would upset the hiring apple cart, even though their own share of expenses is increasing.
Companies are leveraging benefits packages to attract candidates and remain competitive in the hiring market. With this in mind, organizations know they need to invest more in their benefits packages, including offering a mix of benefits beyond basic healthcare, and they need to do so in a way that fits their budget.
Choosing the Right Plan for the Organization
The second-greatest challenge regarding benefit planning and open enrollment is choosing the right plan for the organization. In a recent , benefits experts revealed that not many trends or options are going out of style. Rather, benefits options keep growing. We keep seeing more and more opportunities to enhance company benefits packages to meet employees' needs. This proliferation of services can cause more confusion on the benefits to prioritize which ultimately causes more work for HR professionals in the end. There's more to consider, and too many options can lead to analysis paralysis.
Educating Employees on Plan Coverage
Employees can't take advantage of benefits they don't know exist, nor will they want to take advantage of benefits that are too difficult to access.
Benefits are often confusing and complicated to the average employee. Many are unsure of what they're eligible for, what programs they can enroll in (e.g. health and nutrition apps, websites, gyms, etc.), and what their benefits and do not cover. Having materials to furnish that educate employees on what their plan covers, where to get the best prices, lists of innetwork doctors, and other details improve employee access to benefits. What's more, it also reduces the lift of the HR professional.
In the past, employers used to cover the entire cost of medical insurance and benefits. Over time, some of that cost has increasingly shifted to employees. The idea was that employees are more likely to take an active role in their benefits if they have skin in the game. But despite this logic, employees still need to understand what their plan does and doesn't cover and how they can take advantage of their available benefits. Brokers can play a role in this process by helping HRs communicate benefits and their value during open enrollment and beyond.
Changing Regulatory Requirements
The fourth greatest challenge focuses on changing regulatory requirements. The benefits landscape is constantly evolving. Take the pandemic, for example. Paid leave policies were turned on their heads to accommodate for COVID best practices if an employee or family member contracted the virus. New policies regarding health and paid leave may take effect each year, and companies need to be prepared to comply.
Brokers can alleviate many of the challenges HR faces related to benefits and open enrollment. Great communication and streamlined processes on the HR side of things can translate to better experiences on the employee side.
Assistance Beyond Benefits
Benefits brokers' primary role is to offer support and guidancewhen creating benefits packages. But our research shows that benefit planning is only one of the main services HR professionals and employers are turning to benefits brokers to address.
After benefits, HR professionals are looking to their brokers for multiple services and expertise. The 2nd most important and requested service is adding value with HR resources, tools, and software.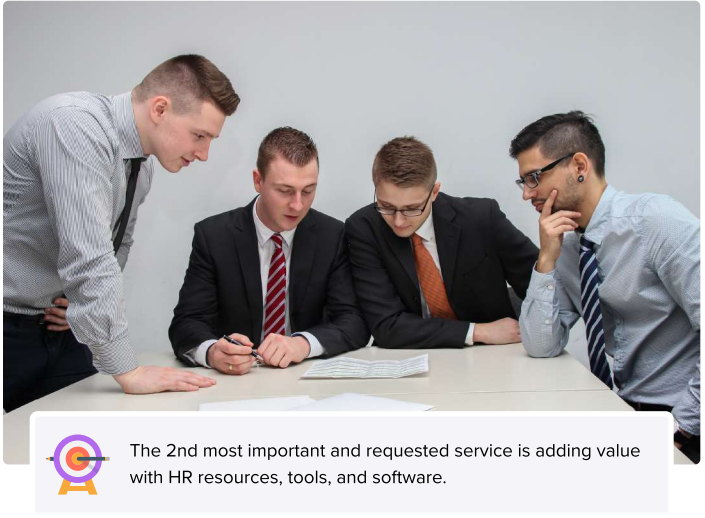 According to our survey, around half of all respondents said they turn to their benefits broker for expertise on benefits administration software and HR technology. This could be due to the fact that brokers work with so many customers that they are introduced to many technology options for HR and benefits optimization.
Less than 4% of respondents believe they don't need a benefits administration platform — meaning 96% recognize the need and the value of well-done benadmin technology. Research shows that technology is the way forward in creating a streamlined, robust, employee-centric HR department. Technology allows HR professionals to reduce much of their manual labor so they can focus on improving the employee experience. This idea expands to all corners of the HR office, not just in terms of benefits management.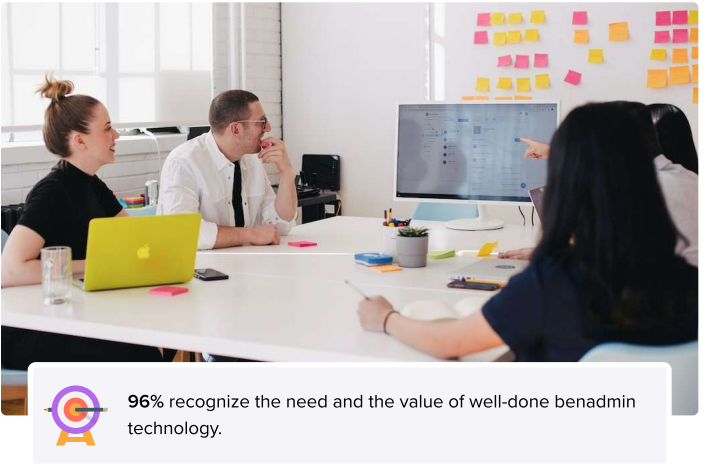 Technology's impact on the employee experience can't be overstated either. Employees play an active role in choosing, using, and managing their benefits, technology can also support their experiences, not just the HR function. Enabling clients with a technology platform that gives them a way to be more proactive and informed without having to rely on assistance from HR is the gold standard. For example, they can log into a portal from home to enroll in benefits, get benefits information, or even update their personal information.
Technology is just one aspect: 30% of surveyed respondents noted they rely heavily on benefits brokers' knowledge and recommendations on optimizing HR processes. Benefits brokers are in a unique position to offer these insights because they work with so many different companies and clients. They gain a bird's eye view into how other businesses across industries operate. With a broader knowledge base of how different HR departments function, they have been exposed to multiple HR processes, software, and best practices that they can share with others.
Why HR Professionals Would Consider Switching Benefits Brokers
Despite the value that benefits brokers offer HR professionals, no relationship is completely foolproof. So we asked the question, what would make you consider switching benefits brokers.
Even when HR professionals said they regularly speak with their benefits brokers, gain solutions and guidance, and are supported during the heavy lifting of benefits administration, loyalty is somewhat up in the air. Only 33% said they were unlikely to switch brokers in the next three years. To put it another way, over 75% of respondents admit they would consider changing brokers.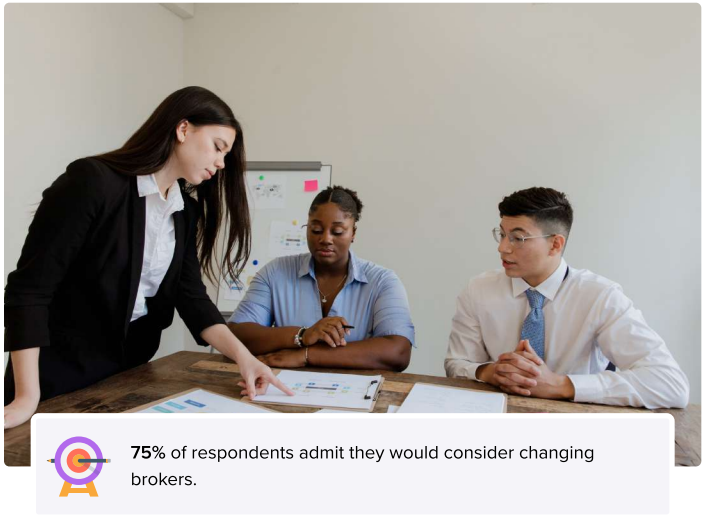 When asked why HR would consider switching, we discovered a wide range of reasons:
Poor Communication
Poor communication is the #1 reason that would lead HR professionals to switch benefits brokers. According to the survey, 50% of HR departments would consider switching brokers if their broker didn't communicate often or clearly enough.
This aligns with the idea that benefits brokers are critical to a business's overall objectives and employee satisfaction. Brokers are on the frontlines of employee health and well-being and have a unique power to help transform their quality of life. They're expected to be proactive in offering suggestions and solutions for HR to consider.
A lack of timely follow-up, being unable to answer questions, or other signs of poor communication can reduce the value a broker brings to the table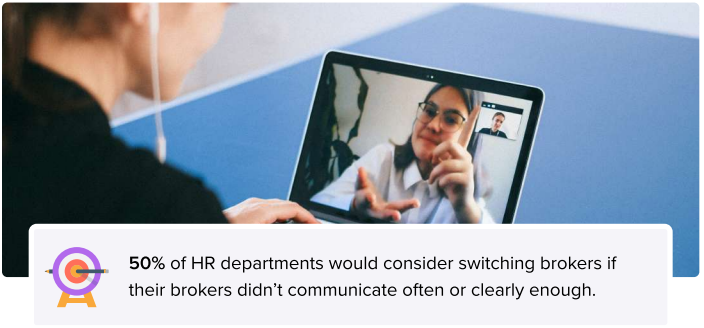 Not Getting the Best Rates
Price isn't the only factor when selecting benefits for employees, but it is a factor. If benefits are costly and/or do not offer a sufficient product, HR is unable to offer employees the value they deserve.
Based on our survey findings, around 50% of HR departments would consider switching brokers for not getting the best rates, especially when they could choose a broker with a better product offering. This underscores the competitiveness of offering broker services and heightens the need for great communication and due diligence in every relationship.
A Poor Digital Experience
Like many other aspects of HR, benefits administration is increasingly digital. Offering a digital experience allows employees to handle more of their benefits admin themselves instead of having to rely on HR for the entire process. Digital perks, such as online portals, allow employees to self-service some tasks, including enrolling in benefits, updating personal information, finding providers, and checking into coverage.
Employees and HR professionals alike need and expect digital experiences, and they expect them to be user-friendly and easy to integrate into their daily lives. Our survey found that 67% of those who have a bad digital experience or lack technology adoption from their broker are open to changing benefits brokers in the next three years. Narrowing the focus even further, 30% of HRs are likely or very likely to switch due to a poor digital experience.
Perhaps a bit ironically, brokers that are the cause are also looked at as the cure. In our survey, 57% of respondents who have a bad digital experience look to their broker for expertise and recommendations for benefits administration and HR software. They expect brokers to be skilled in technology, at least to the point where they can recommend tools and systems that streamline benefits administration.
As a reminder, our survey respondents say adding value with HR resources, tools, and software is the second most important broker service after benefits counseling. This idea means that brokers should be the "total package" for HRs. They expect brokers to be experts and guides in all phases of benefits, not just plan consultants. This factor is even more of a priority in organizations with three or more HR employees.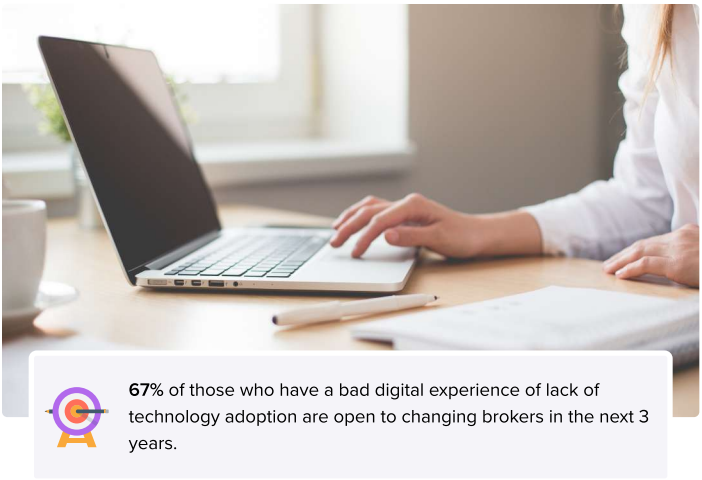 Lack of Transparency on Fees and Commissions
HRs trust benefits brokers to act in their best interests, offering fiduciary-level transparency when suggesting benefits options and costs. When choosing benefits, HR professionals want the truth, the whole truth, and nothing but the truth.
That's why it's no surprise that 46% of our survey respondents would switch benefits brokers over a lack of transparency. In addition to costs and benefits details, HRs also want to see what the broker stands to gain for their recommendations. A lack of transparency into commissions and fees may diminish trust and sour the broker/HR relationship.
How Brokers Can Improve Client Relationships
Brokers are just as concerned about client relationships as the HR professionals they partner with. Given that the industry is already highly competitive, and more than two-thirds of HRs are willing to change brokers despite a seemingly good relationship, it's more important than ever for brokers to prioritize standout experiences.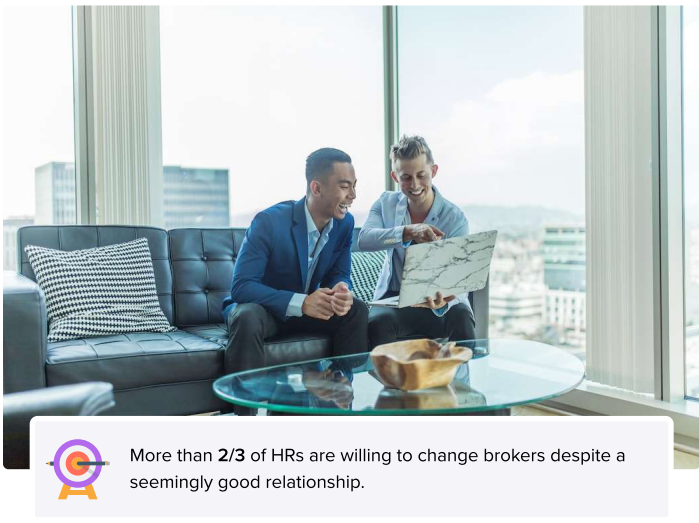 Here are some ways brokers are adding more value to their client relationships:
Acting as an Adviser
More and more HR professionals are looking to their broker beyond benefits planning. They're seeking guidance to address challenges around optimizing HR processes. Brokers are responding by adding value and insight with resources, tools, and software. They're increasingly taking on more of a consulting role while also maintaining their role as a service provider. By ascending to a form of partner for HRs, HR professionals don't shy away from leveraging their expertise to make their own work easier and more impactful.
Building a Strong Tech Stack
Successful brokers know the value of technology in human resources. They're increasingly being asked to help optimize processes and provide more fluid employee benefits experiences, which is why they remain a few steps ahead by staying informed and proactive. They anticipate HR's needs for technology so they can offer solutions and recommendations on the spot.
Benefits experts in a recent GoCo webinar also noted that benefits brokers are leaning more toward plans and carriers that prioritize technology in the first place. The infrastructure is already in place to make it easier for employees to access and leverage their benefits. Choosing providers that are technology-driven sends a strong message to the benefits industry at large and underscores what really matters to HRs, organizations, and employees.
Offering HR Education
With changes in regulations and compliance, shifts in employee ecosystems, and work-related epidemics like the Great Resignation, HR professionals have no shortage of facts and trends to add to their internal knowledge bases. Staying up to date with changes in the HR industry in terms of technology, processes, challenges, and legal and regulatory changes is easier with a benefits broker.
Benefits brokers bring fresh and unique insight to the table. Being in a position that works across a variety of industries and companies, benefits brokers who provide insights and support to HRs based on their own experiences and what they witness at other companies are winning in the eyes of their clients.
Final Thoughts
The benefits landscape is as complex as ever, particularly in the wake of the Great Resignation. Now more than ever, companies are leaning on benefits brokers to help them explore their benefits options, remain competitive for talent, and offer support and education at every turn. Even in the face of rising costs and expanded benefits options, brokers can continue adding value to their services simply by becoming a partner in HR and not just a service provider.
At GoCo, we're helping shape the benefits landscape with purpose-built features that make a breeze. Combining benefits plan information into a single selfservice interface gives employees the flexible technology they crave while removing tedious manual processes from HR's to-do list. What's more, GoCo integrates with carriers that may or may not already have technology in place, allowing employees to gain a unified, predictable experience even if plan information changes.
GoCo's partner program for benefits brokers does the heavy lifting for you. Brokers can integrate with the GoCo platform to provide streamlined, user-friendly, technology-driven benefits administration. Our platform saves brokers countless hours during open enrollment, including collecting employee information, providing temporary cards, and facilitating employee self-service updates due to life events or other coverage changes. Brokers can tap into our benefits-focused infrastructure to provide the technological experience that employees and HR professionals love. Contact GoCo today to see our employee benefits in action.