= 50)" :class="navScrolled ? 'lg:mt-20' : 'lg:mt-32'" x-transition >
PTO & Time-Tracking Platform
Track your team's work, PTO and holiday hours in one place
GoCo has everything your team needs to track their time and ensure you pay them accurately and on time. All state and federal overtime rules are automatically calculated, and timesheets can be reviewed and approved with a single click.
Modernize Your Traditional Time Clock System
Time-tracking quickly becomes a headache for business owners with an old-fashioned punch card system. GoCo's digital time clock system guarantees a pain-free employee clock-in experience and gives employers a central solution for managing attendance.
Flexibly manage and edit timesheets
Some companies prefer to have their team just fill in a timesheet. GoCo makes this easy by giving companies the flexibility to decide how their team should enter time.
Automatic Overtime Calculations
Automatically calculate overtime
Calculating overtime correctly can be really complicated, especially if your employees work in one or more states with their own overtime regulations. GoCo Time Tracking can automatically calculate federal and state-specific overtime.
Automatically add holiday hours to timesheets
Do you pay your team for working holiday hours? With GoCo you can configure your company's holiday schedule and automatically add holiday hours to your team's timesheets. No more manually updating timesheets with holiday hours!
Track PTO and sync to timesheets
With GoCo's absence management system, your team members can easily request time off (whether it's vacation, personal or sick time) and have it appear directly on their timesheets. We also have emergency paid sick leave tracking features in compliance with 2022 regulations! Learn more about GoCo Time Off.
Approving timesheets with a single click
You can fully customize who can approve timesheets. Approvers are sent an automatic reminder to review and approve timesheets. Teamwide approvals can be done with a single click, or you can review timesheets individually.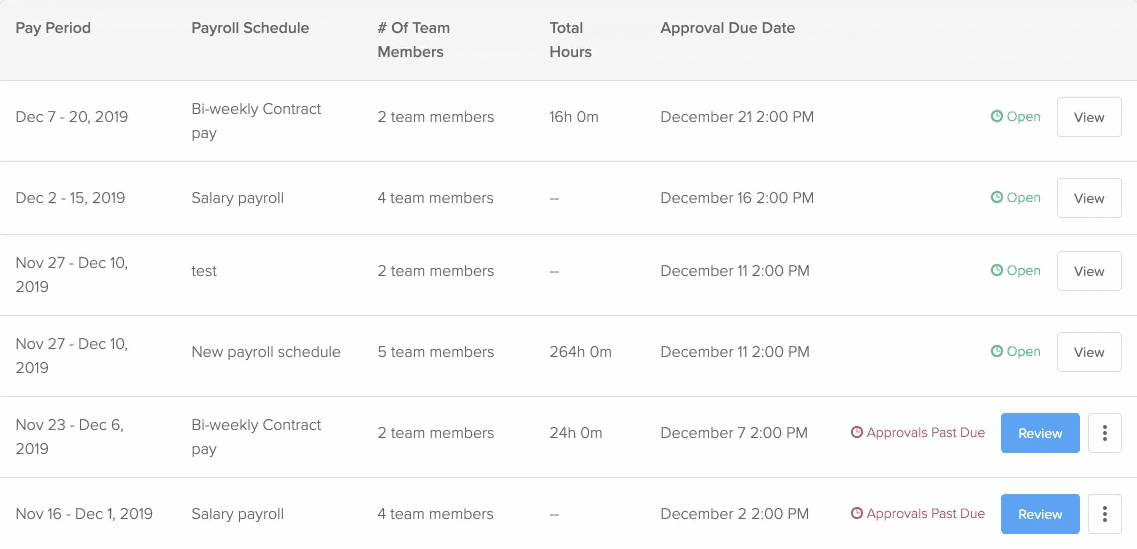 Report on all of your team's hourly data
Want to see how many hours your team worked during a certain range? Or maybe you'd like to see an audit log of every time entry saved to a timesheet? Time Tracking reports have all the insights you need to understand your team's hours.
Elevate your HR with our Resource Library
Top-Rated Employee Management Software
Don't take our word for it! Check out our reviews to see why users love us!
I love GoCo, and I adore their customer success team, because they are really who have made the experience all that it is for me.

GoCo has really held our hands through everything. We really see GoCo as our partner, not just a service provider.

Product Operations Manager

GoCo helped us improve our relationship with our employees because they started to see that we were taking steps to ensure that they were being treated properly, and that they were receiving the attention that they needed.

Ease of use and clean look. I'm the administrator for my company's GoCo account and it's super easy to get new employees onboarded and enrolled in benefits. We were using digital e-forms for benefits enrollments and I'm so glad to have an automated system for employees to elect insurance!

Every year [during open enrollment], I would have sleepless nights just trying to get people to finish their paperwork on time. With GoCo, the process is just so much easier.

GoCo has the best service of all the platforms i've worked with in this industry