GoCo Makes HR Work Flow
Build custom workflows for any HR process, policy, or checklist with GoCo.
We can automate anything on your to-do list:
Onboarding Checklists
New Hire Paperwork
Termination Checklists
Performance Reviews
Automate and Standardize
ANY

HR Workflow
1. Create a Template
Design and orchestrate a standardized workflow for any HR policy, process, or to-do list.
2. Start a Workflow
Get organized, assign tasks, and standardize to-do's across departments and teams.
3. Collaborate & Streamline
Define all of your business processes, due date and assignees once in a fully custom template.
Orchestrate and automate any HR workflow, process, or checklist with standardized workflow templates.
Create rich task content
Collect data and form fields
Automatically assign tasks
Dynamically set due dates
Customize permissions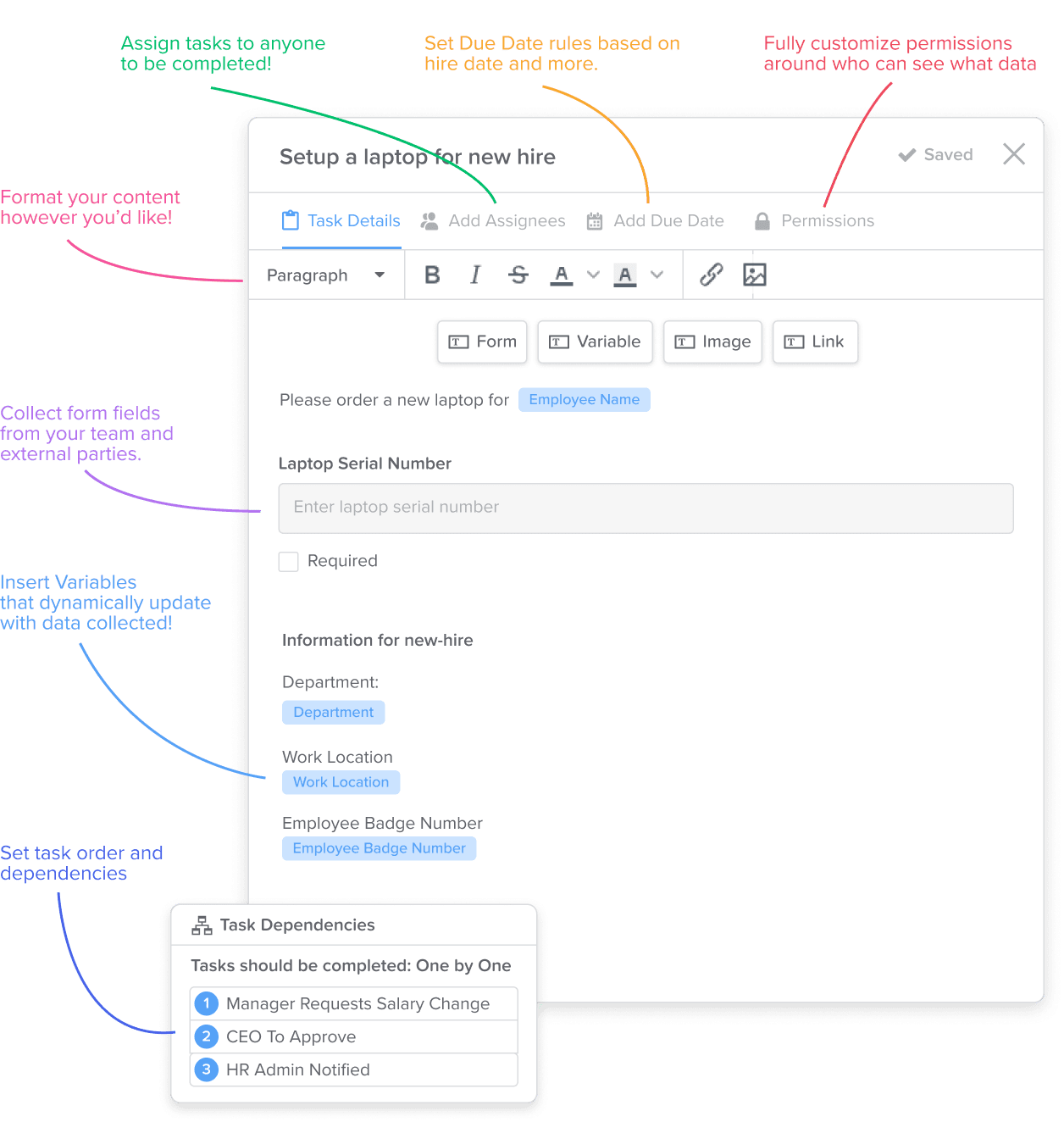 Invite anyone in your company to collaborate in your workflows. Assign tasks and streamline communication between:
IT
Human Resources
Accounting
C-Suite
Employees
New Hires
Recruiters and candidates
Get a single dashboard view for tracking and managing all your HR workflows.

Here are some workflows you can automate in minutes!
… and anything else that's manual, routine, or painful for your HR team!
Top-Rated Employee Management Software
Don't take our word for it! Check out our reviews to see why users love us!
GoCo has the best service of all the platforms i've worked with in this industry

I love GoCo, and I adore their customer success team, because they are really who have made the experience all that it is for me.

Every year [during open enrollment], I would have sleepless nights just trying to get people to finish their paperwork on time. With GoCo, the process is just so much easier.

Ease of use and clean look. I'm the administrator for my company's GoCo account and it's super easy to get new employees onboarded and enrolled in benefits. We were using digital e-forms for benefits enrollments and I'm so glad to have an automated system for employees to elect insurance!

GoCo helped us improve our relationship with our employees because they started to see that we were taking steps to ensure that they were being treated properly, and that they were receiving the attention that they needed.

GoCo has really held our hands through everything. We really see GoCo as our partner, not just a service provider.

Product Operations Manager