= 50)" :class="navScrolled ? 'lg:mt-20' : 'lg:mt-32'" x-transition >

Blog Articles
Introducing: Flexible, Multi-Step MagicDocs!
Even more flexibility within our most beloved feature
Even-better MagicDocs are here 🥳! We're excited to announce new enhancements to GoCo MagicDocs, that add even more flexibility to our most beloved feature, and support almost any document or eSignature workflow.

Here's a quick look at what's new in GoCo MagicDocs:
Enhanced Template Builder 
We've made it even easier to build and customize your docs, with a sleek drag-and-drop template builder. You can also build fields based on the step of the document flow they're completed in.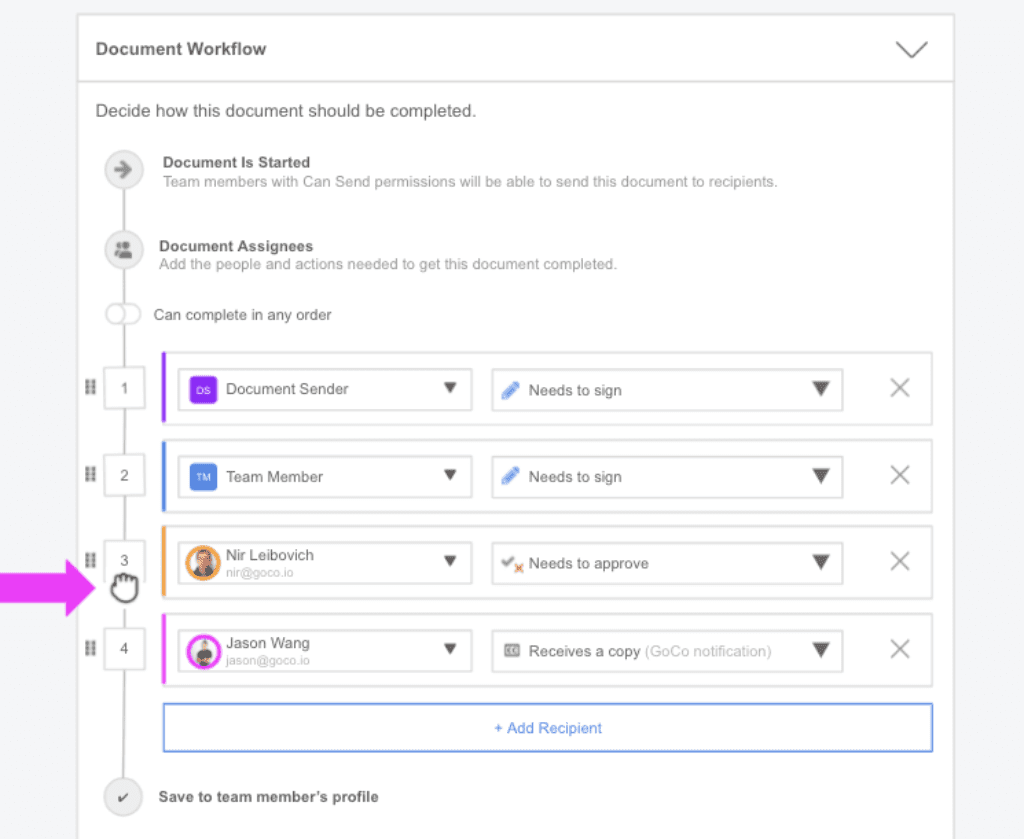 New! Assign Docs to Multiple Team Members, and Customize the Order of Completion
Completing a document often requires more than just a sender and receiver. With this enhancement, you can assign multiple team members and signatories to any document. 
This is a really exciting feature that our customers have been asking for, to support more use-cases in including multiple signers in documents used for performance reviews, offer letters, employment agreements, etc.

You can now configure the order of steps to be completed by each Document Assignee, and customize the document flow.
When you're configuring the document workflow, you're able to customize which team members or managers need to be involved, and which actions they need to complete. Actions include signing, acknowledging, approving, or receiving a copy. 
When adding document assignees, you can select from: 
Document sender

Full access document permissions manager

Full access admins

All other people at the company including external admins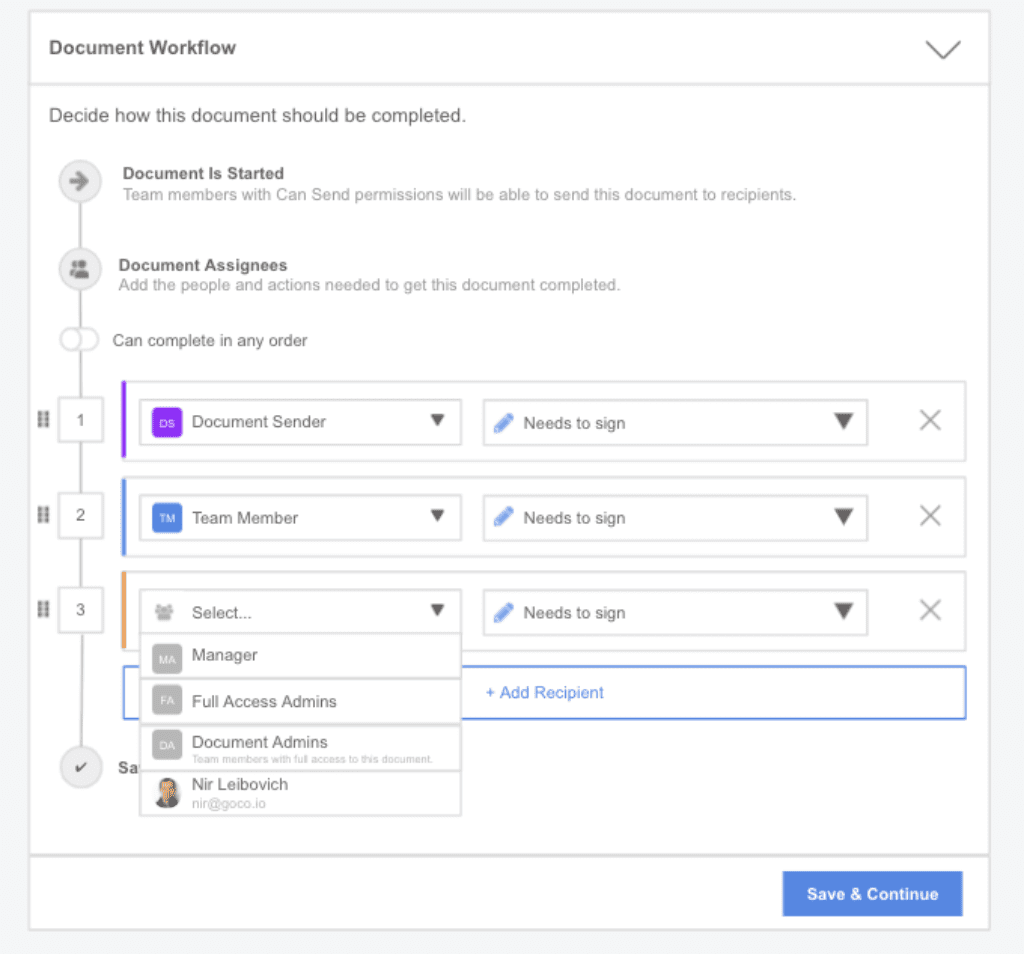 And with the new Template Builder, you can drag and drop your way to your ideal document completion order flow!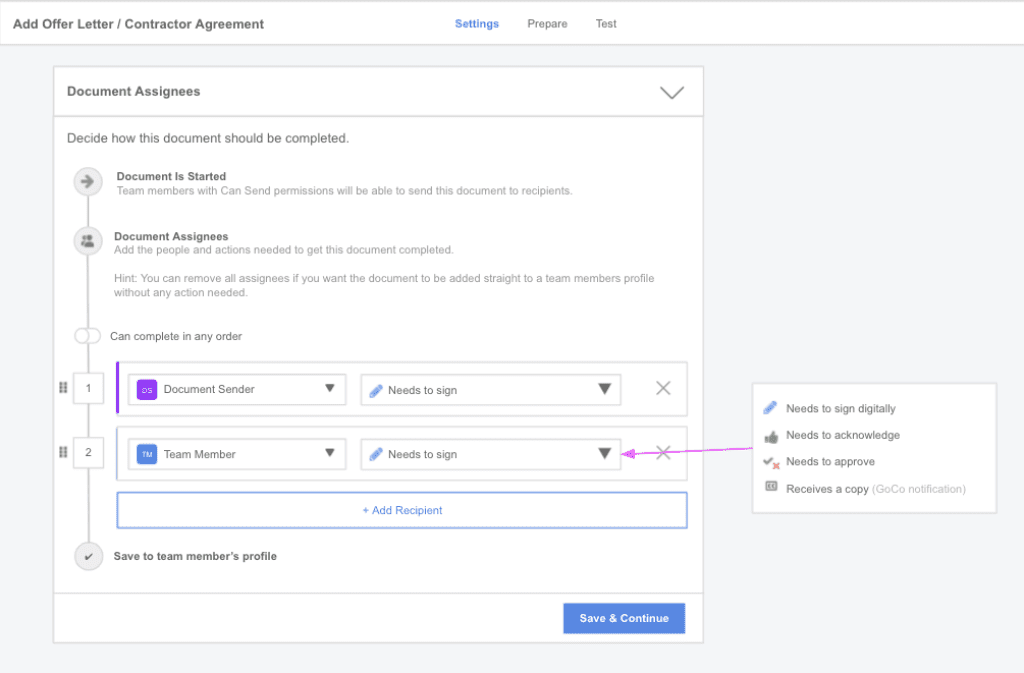 If you don't need to control the completion order, you can use the toggle Can complete in any order. The sequence is removed from the "signing order" and all users can complete the document at the same time.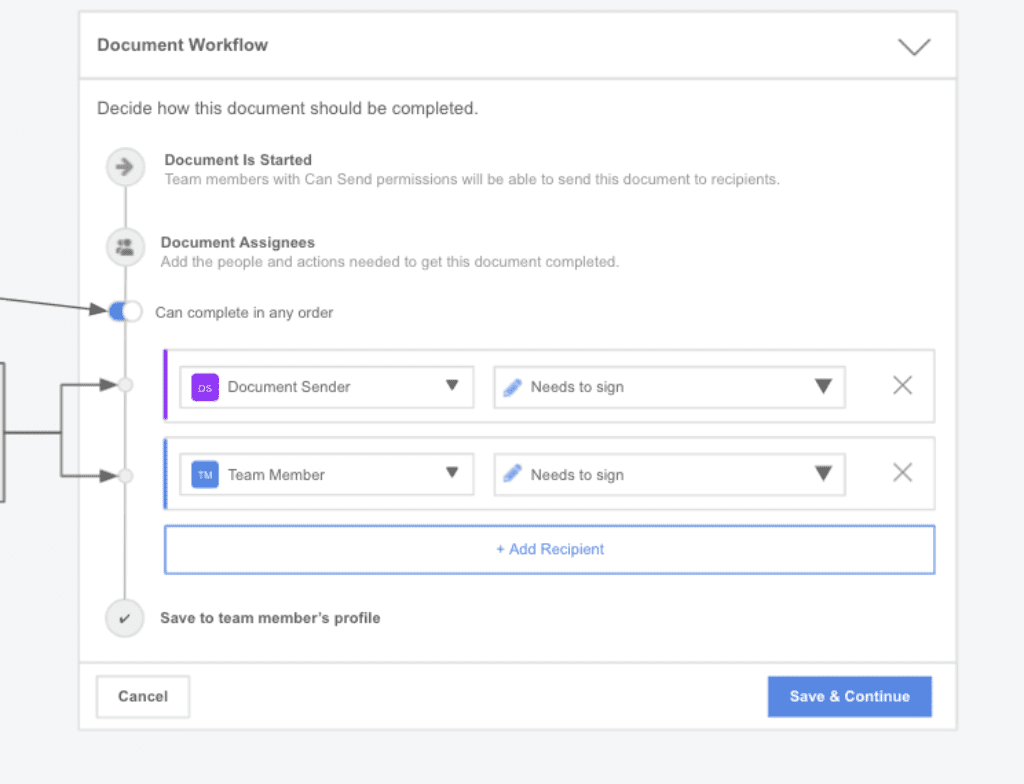 Need document assignees to complete steps in parallel? We've got that covered now too! HR admins can set steps to be completed at the same time. Here, the team member and the manager will get notified to sign documents at the same time.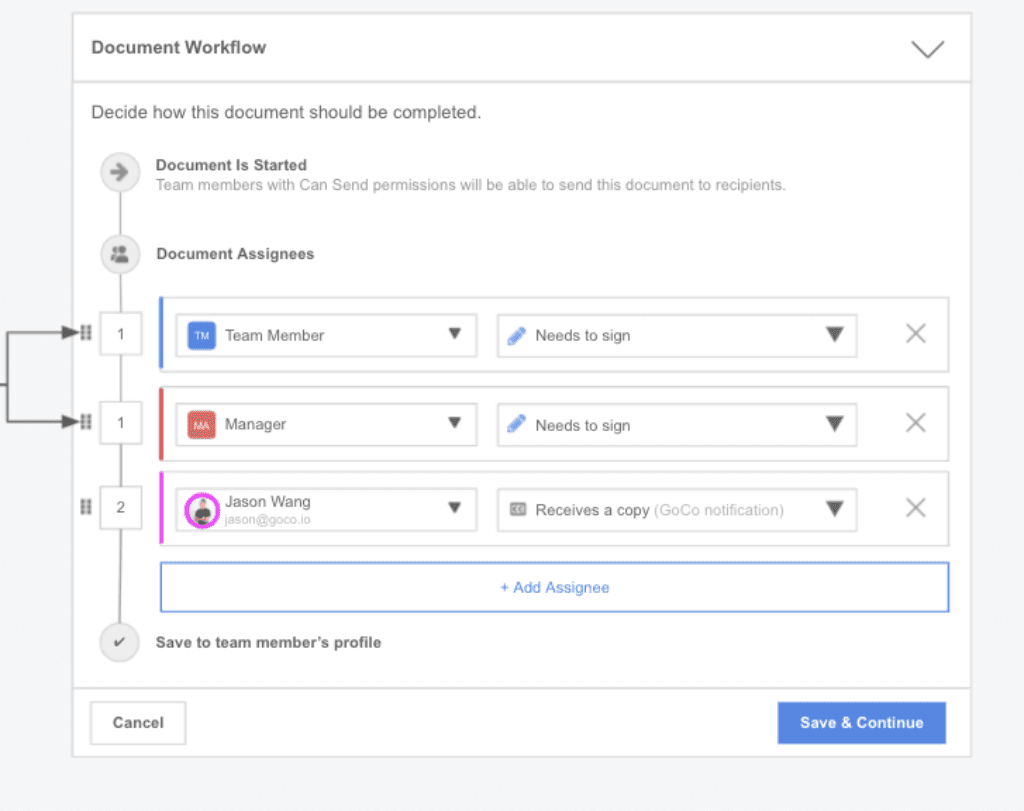 New Document Actions
Last but not least, we've added some new document actions. In addition to actions like sending, signing, acknowledging, and uploading/downloading documents, you can also Approve or Deny documents, and receive a copy of the document.

Key Use Cases
With these major improvements to the document completion workflow, HR admins can now solve additional pain points around complex workflows that require multiple users taking actions on a document, including:
I.e. Performance review must go through direct manager, team member, and general manager
I.e. Offer letter must be initiated by HR, completed by direct manager, approved by the CEO, approved by Finance, and then signed by the team member
I.e. The agreement can be sent to the team member then to the CEO to sign
...and so much more!

Ready to See MagicDocs in Action? 
The newest enhancements to MagicDocs make the document completion workflow even more flexible. If you're interested in seeing the multi-step document workflow in action, register for our webinar, take a tour!