= 50)" :class="navScrolled ? 'lg:mt-20' : 'lg:mt-32'" x-transition >
Zenefits vs Namely:

The Best HRIS in 2021
HR professionals begin to explore HR software for many different reasons. Some work at rapidly scaling companies, with the need to efficiently improve onboarding processes. Others struggle to balance compliance and data management of in-house, in-field, and remote workers. Regardless of the specific pain point, many HR managers are looking for a way to simplify onboarding, streamline benefits administration, automate HR workflows, go paperless, and provide a better employee experience all at once. For this purpose, an HRIS is the perfect solution. But with so many software options, which one is best suited for your business?
As you continue your research, you'll likely see the HR software Zenefits or Namely come up. Both platforms offer all-in-one HR features and added services. We've researched and compiled an ultimate comparison guide to Zenefits, Namely and GoCo -- a competitive alternative that combines the benefits of both platforms and more so you can easily automate all of your HR.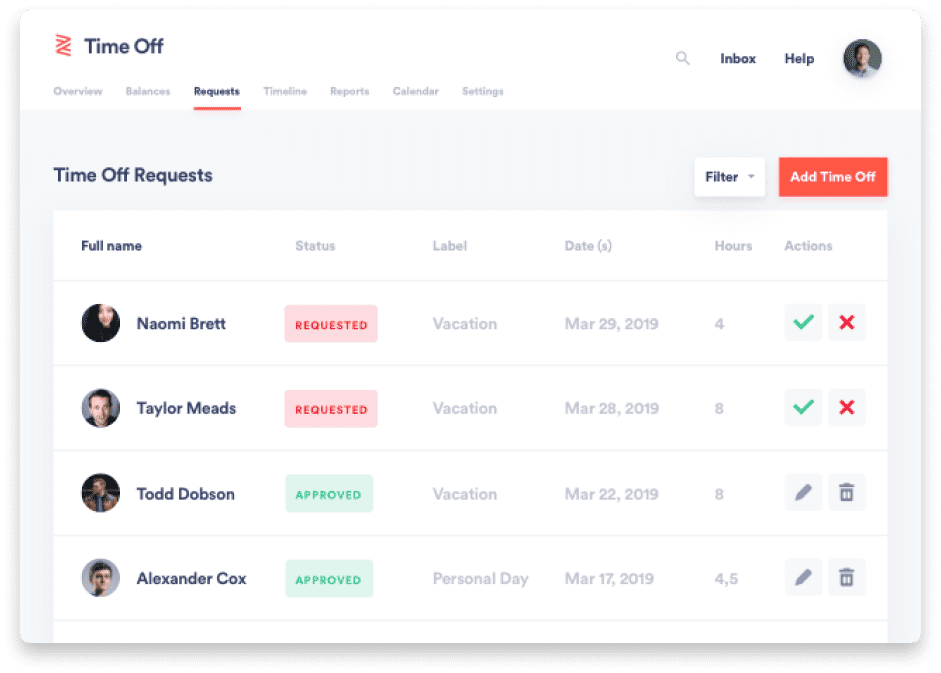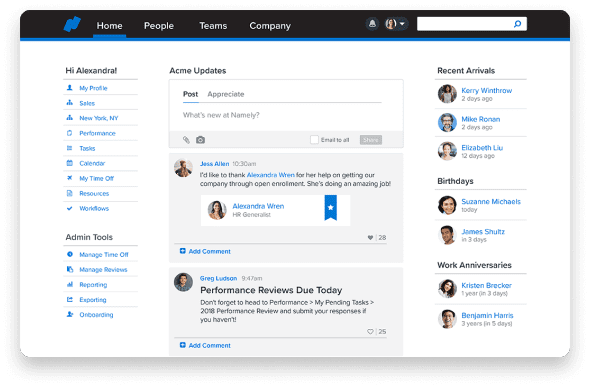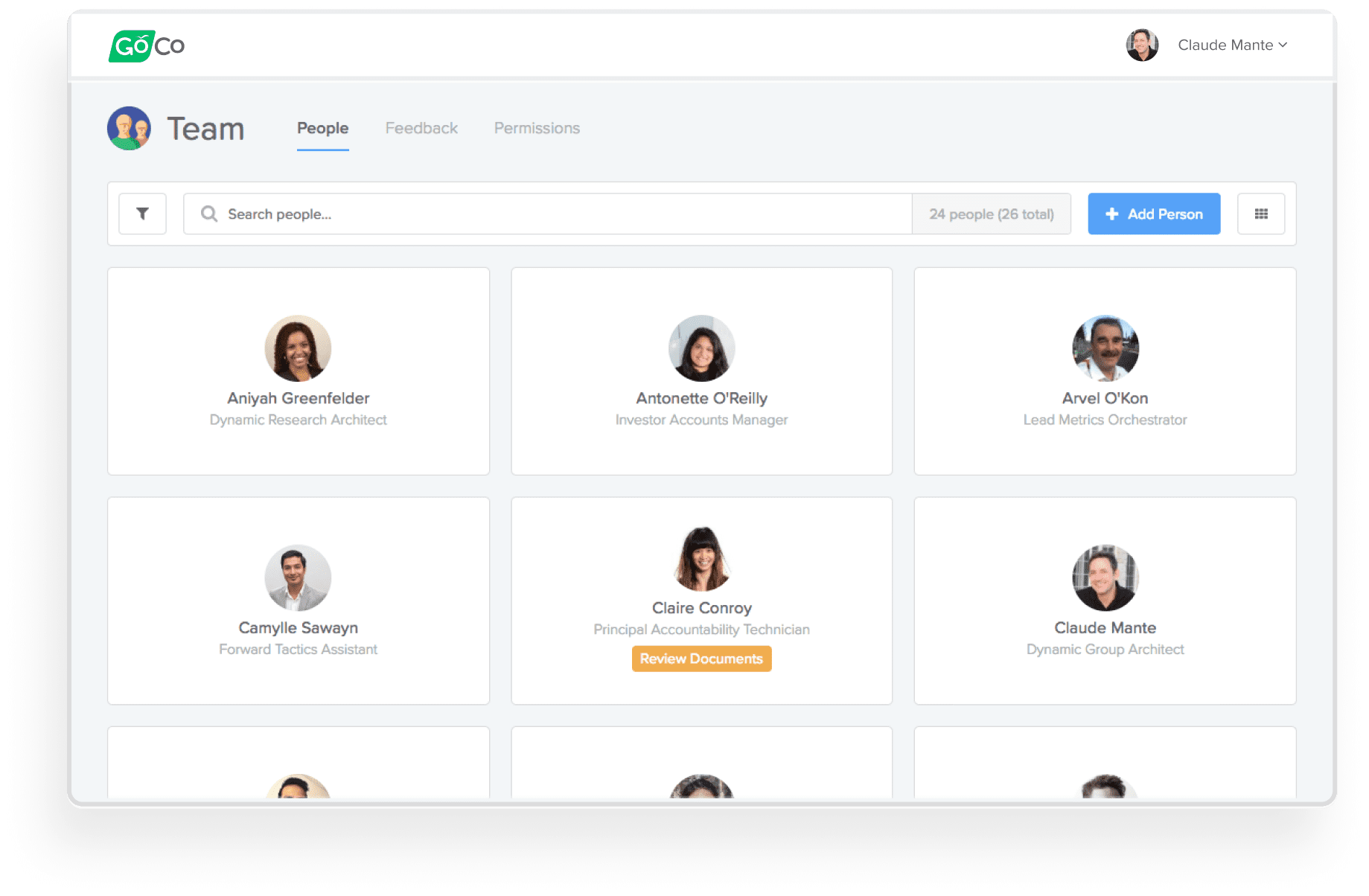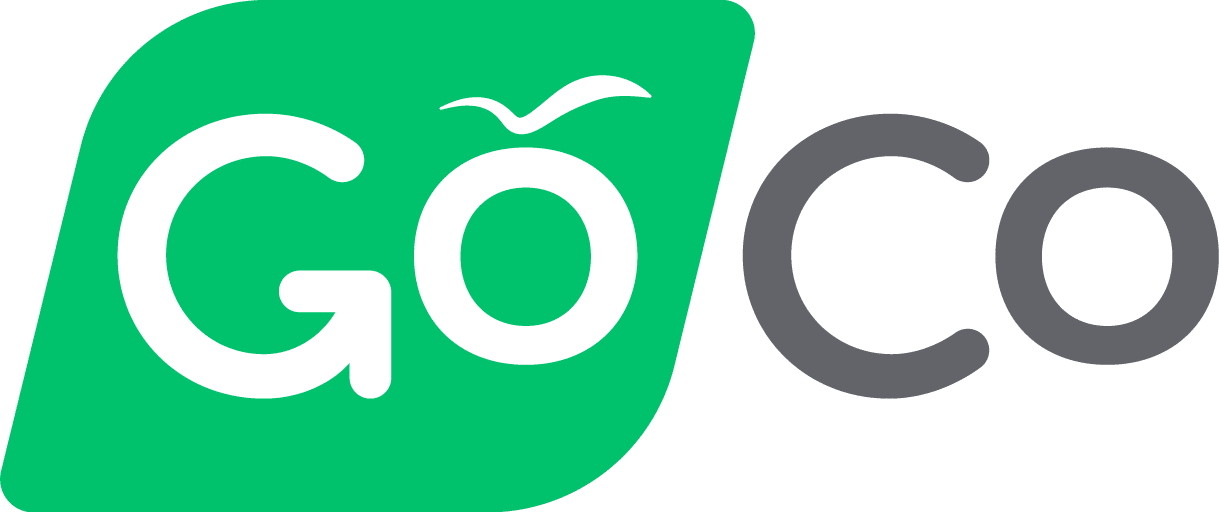 Points of Comparison
To properly evaluate your HR software options, here are a few key points of comparison we recommend focusing on: customer satisfaction, key features, and pricing. These three points of comparison are often the main selling points that drive decisions in the HR software space. If an HRIS satisfies all three categories, you can expect major time savings, streamlined workflows, reliability, and a consolidated experience.
Taking it a step further, you'll also need to identify your personal HR tech needs and priorities. This refers to how you currently facilitate information distribution, manage employee experience, provide support to your organization, and so much more! Our HR tech buyer's guide makes the comparison process easy.
Customer Satisfaction
Customer satisfaction is at the forefront of important points to consider before selecting an HR software. You, as the HR manager, need to confirm that your future platform aligns with your needs, whether that's a fast support response time or a customer success manager that truly listens. A top-notch customer success team will address concerns and save you time and energy, which will make all the difference in high-stress periods like payday, tax season, or holiday season.
Uh, @Zenefits - how am I supposed to submit support requests to you?
You no longer accept email replies;
And to submit via the app I must pick one of your pre-canned categories.

So what am I supposed to do?

— FunkyBob (@BunkyFob) March 2, 2021
A customer-focused HRIS should prioritize efficient implementation by scoping out all of your needs, processing your data, and doing all the heavy lifting to bring your processes to life. Your customer support team should be easy to communicate with, not just an automated bot. Whether it's through email, text, 24 hour phone support, training seminars, or more, make sure the HR platform prioritizes real, human communication. From kickoff to benefits enrollment/testing and finally to launch, the HRIS adds value to your processes without making things more complex.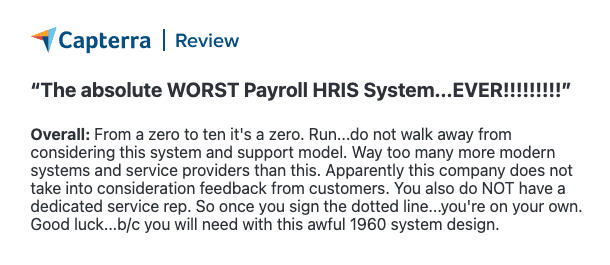 Your customer support team should also be just a call, email, or chat away. On your buyer's guide checklist, remember the companies with positive customer service reviews, and companies that welcome feedback and go the extra mile to deliver the absolute best experience. Response time is crucial too -- don't expect a service that doesn't respond to be there in your time of need.
Key Features
Often the most crucial point of comparison is the scope of features offered by each platform. HR tech vendors are not one-size-fits-all, so as you explore vendors, list your must-haves, as well as your nice-to-haves. At a higher level, the software you're evaluating should have an easy interface for both employees and HR pros, and also offer next-level support quality. Make sure your potential HRIS offers core features, including employee management, benefits, payroll, time, and resources. It's also important to make sure the features work well together.
in less than a week @Zenefits has failed us again. What a complete disaster of a company. Stay away from this company for your HR needs. Absolutely terrible.

— DT (@ThaRealDreal) February 25, 2021

An efficient HRIS should solve the problems above and include the following:
Complete employee management features
Hiring and onboarding
Document management
Workflows
Self-Service Tools
Benefits administration
Payroll
Time and absence management
HR Support and advisory features
Dedicated customer support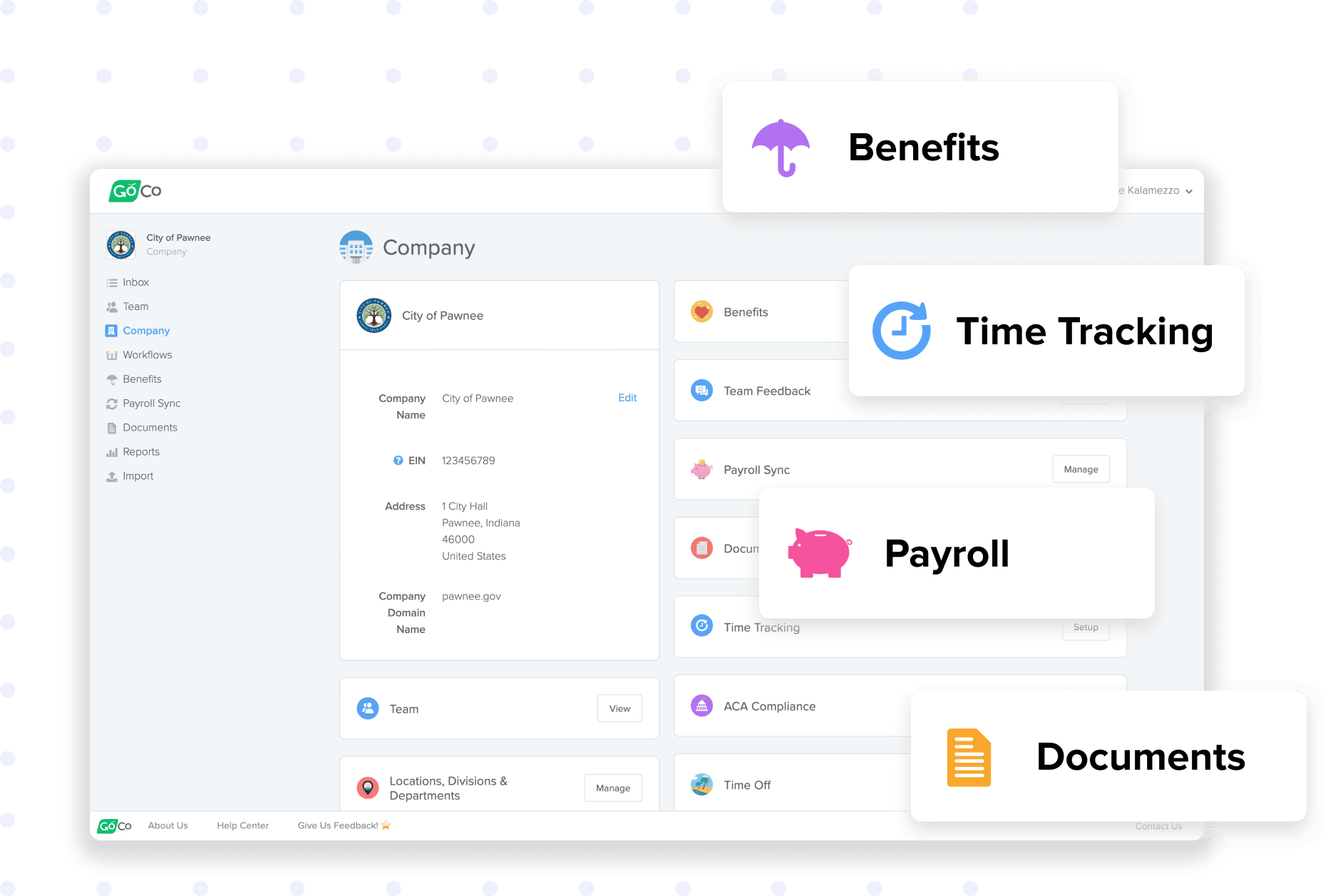 Head-to-Head Feature Comparison
Overall, while all three platforms have onboarding, personnel tracking, and employee self-service, Zenefits falls behind in regards to automated HR workflows. Namely offers time, payroll, and HR features, but separates each component into different apps, which leads to a lack of a centralized data platform, multiple log-ins, and the potential for disparate processes between each feature. Customers say that the individual features don't always interface well or talk to each other. This may seem counterintuitive to someone looking for an all-in-one HR software.
Whether it's the ability to digitally onboard employees, compare benefits packages online, or track time on a modern kiosk, the scope of your future HR platform's features should cover all the bases of your day-to-day HR processes.
Here's a comparison table that breaks down the included features of Zenefits, Namely, and GoCo.
Employee Management Platform

Hiring & Onboarding
Personnel Tracking
Applicant Tracking
Employee Self-Service
Advanced Document Management
Advanced Custom Fields
Performance Management
Automated HR Workflows

Benefits Administration

100% Online Benefits Enrollment
New-Hire Benefits Preview
Bring Your Own Broker
Connect to any Carrier
EDI Feed
Support for Health, Dental, Vision, Life, Disability, ADD, Ancillary Benefits

Payroll

Built-in Payroll
Option to Bring Your Own Payroll
Payroll Sync Service

Time

Virtual Time Clock
Digital Timesheets
Time Off Requests, Balances, Accruals, Approvals
Advanced, Custom Time Off Policies
COVID-19 Paid Leave Tracking
Scheduling
Custom Labor Groups
Employee Time Tracking Kiosk

HR Support and Advisory

On-Demand HR Advice from HR Pros
HR Resource Library (forms, templates, policies)
GoCo fills in the gaps on both -- its custom workflow feature allows HR managers to streamline ANY HR checklist, and the truly consolidated platform means that onboarding, payroll, benefits, and time-tracking flow and sync seamlessly with each other with one log-in.
For payroll and time tracking, Zenefits offers scheduling but lacks a seamless payroll sync option within its platform, whereas GoCo and Namely both provide payroll sync within the software. Namely offers a payroll solution as well as integration options, but often encourages smaller companies to switch to Namely payroll.
Zenefits also falls short with advanced, custom time-off policies and up-to-date COVID-19 paid leave tracking capabilities. Namely, Time is completely separate from the HRIS, which can be difficult for syncing, data entry, and payroll purposes. They also lack the ability to automate unique sick time calculations or PTO accrual amounts for business-specific policies. GoCo shines with a choice between built-in payroll or bring-your-own, and also provides advanced COVID-19 paid leave tracking, a time tracking kiosk feature, and custom time-off policies.
I am implementing @NamelyHR with my team. Unfortunately, their implementation and customer service falls short. I'm not sure why it takes two months to address a custom report.

— Ian B. Mondrow (@IanMondrow) December 11, 2017
Pricing
After you've evaluated the features, it's time to dive into pricing. Though it's important that the software has all the features you desire, it's also important to remember which features come at a premium cost and whether that is in your SMB's budget scope. The key is to decide what modules and features are required for your business and take into account upgrade costs.
Zenefits vs. Namely vs. GoCo
Your HRIS platform should check all the boxes for you -- not add any extra work to your plate.
Customer Satisfaction


(Based on G2 Quality of Support Score)

7.5
7.6
9.5
Key Features
Pricing
$ $
$ $
$
Summary
Now that we've covered and compared the key points of comparison, let's talk through the winners!
When Zenefits Wins
Zenefits is a good choice if scheduling is your top priority in an HR system. You can build and monitor individual schedules, and notify employees when new schedules are created.
When Namely Wins
Namely is a good option if you are a larger business, and do not mind separate platforms for each feature.
When GoCo Wins
GoCo is the clear winner if your end goal is a truly unified and flexible HR platform with unbeatable customer satisfaction, advanced platform features, and competitive pricing.
Whereas many other HR platforms offer standard HR features like payroll and benefits administration, GoCo shines with unbeatable features like:
Advanced Document Management technology. Re-imagine your approach to sending, collecting, and electronically signing HR-related documents with Magic Docs.
Automated HR Workflows. Streamline routine tasks like hiring, onboarding, termination, and more. GoCo's drag-and-drop workflow builder brings any process or checklist to life inside of GoCo.
Payroll Sync Service. If you can't move to a new payroll, GoCo can sync data from the platform directly into your cloud-based payroll.
Advanced Time Tracking/Time Off Policies. From COVID-19 paid leave tracking to custom time off policies, GoCo stands out in this category.
Client Success. Customers are 3x more likely to recommend the GoCo platform compared to others in the industry. GoCo has won customer success awards for best support, best implementation, and offers white glove implementation to go the extra mile. In fact, most implementations take about 2 weeks!
HR Support Center. GoCo provides access to expert HR advice and tools to support your team.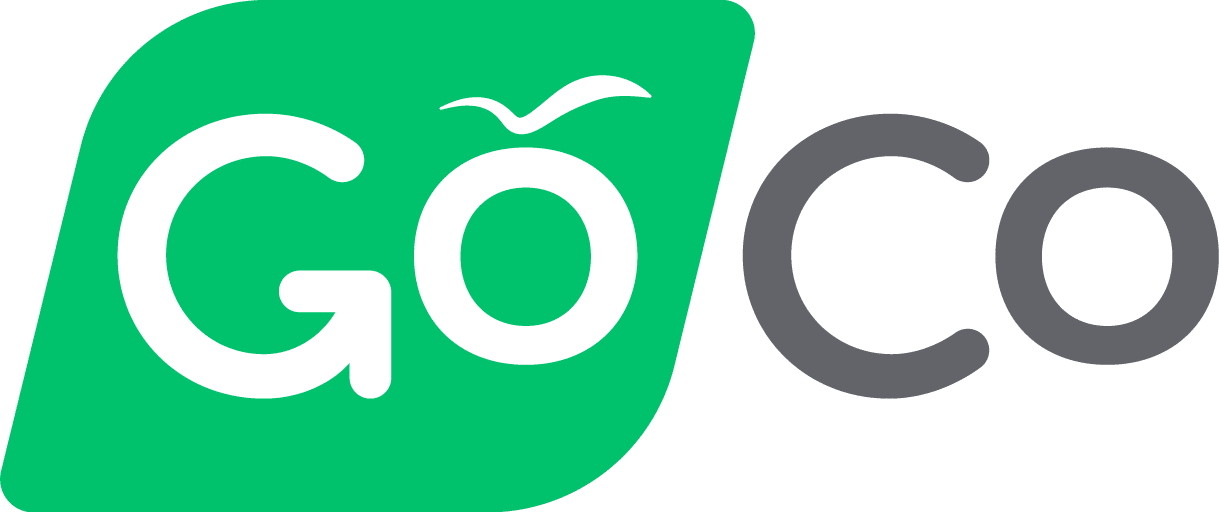 Why Choose
GoCo

Over
Zenefits and Namely?

Zenefits, Namely, and GoCo are all key players in the HR software market. Even so, when you hone in on the three points of comparison, GoCo is truly the most consolidated HR platform for small to medium sized businesses, with an apparent edge in client service.

While Zenefits and Namely are both strong for specific parts of HR operations, like scheduling, GoCo's level of flexibility makes it easy to customize a solution for your business. With GoCo, you can easily automate any HR checklist, trigger notifications, track time, run payroll, and report data in one place, to give both your employees and yourself a consistent HR experience. On top of that, our customers love how intuitive and easy-to-learn the user interface is -- your entire team can adopt an HRIS without spending extensive time and money on training.

Need flexibility to sync to your payroll provider? GoCo can help. Need to work with your own benefits broker? GoCo's cool with that too! Need to add advanced custom fields for tricky documents? GoCo can take care of that. Need help staying fully compliant? GoCo's advisors can help. With GoCo, it's not just one or two features that stand out, it's the unified HR experience. One login, hundreds of HR solutions. You can better prioritize your team and leave the technical stuff for us to handle, and receive an unparalleled customer experience even stronger than what's capable within Zenefits and Namely. But don't just take our word for it, see what our customers are saying. Take a free interactive tour today to see where we win!
Ready to Try the Top-Rated HR Solution for Small Business?