= 50)" :class="navScrolled ? 'lg:mt-20' : 'lg:mt-32'" x-transition >

Blog Articles
77 Critical HR Statistics For 2023
Here are 77 stats to help inform you as an HR leader in the coming year!
2023 is underway, and by the end of the year, the HR landscape will undoubtedly see significant change. As an HR leader, it's important to stay informed of the latest trends and statistics to make the best decisions for your organization. This knowledge helps you create a successful workplace culture and ensure that your team is set up for success.
In this blog post, we'll discuss 77 critical HR statistics that will power up your HR game in 2023. From recruitment metrics to the latest technology trends, these stats will give you a better understanding of what's happening in the world of HR and how you can use them to create a more effective workplace. So if you're looking for insight into the current state of HR, read on!
Recruiting Statistics
As recruiting trends continue to shift, it's becoming important for companies to view these strategies as marketing tactics. A recent survey of HR professionals revealed that 86% believe recruiting is increasingly looking more and more like traditional marketing functions. Recruiters are moving from just filtering candidates to actively engaging potential applicants through social and marketing-driven channels and using personalized messaging. As job seekers better understand the recruiting process and capitalize on opportunities by having a strong personal brand, HR professionals must also be adept at understanding how new recruiting methods will shape the future of their company's recruiting initiatives.
Critical HR Statistics 2023
What HR trends should you prepare for in 2023? Download our FREE infographic to find out!
What to Know About Recruiting in 2023
Onboarding Statistics
Onboarding can be overwhelming for new hires – with, on average, 54 onboarding activities to complete! That's a lot of paperwork, forms, and onboarding training to get through, and it's no wonder that many organizations are turning to onboarding technology solutions. Automated onboarding through software enables faster onboarding and can help streamline the onboarding process for new employees. As onboarding statistics show that a successful onboarding program reduces employee turnover by up to 25%, it's clear why businesses are taking onboarding seriously, and looking for more efficient solutions to attrition.
What to Know About Onboarding in 2023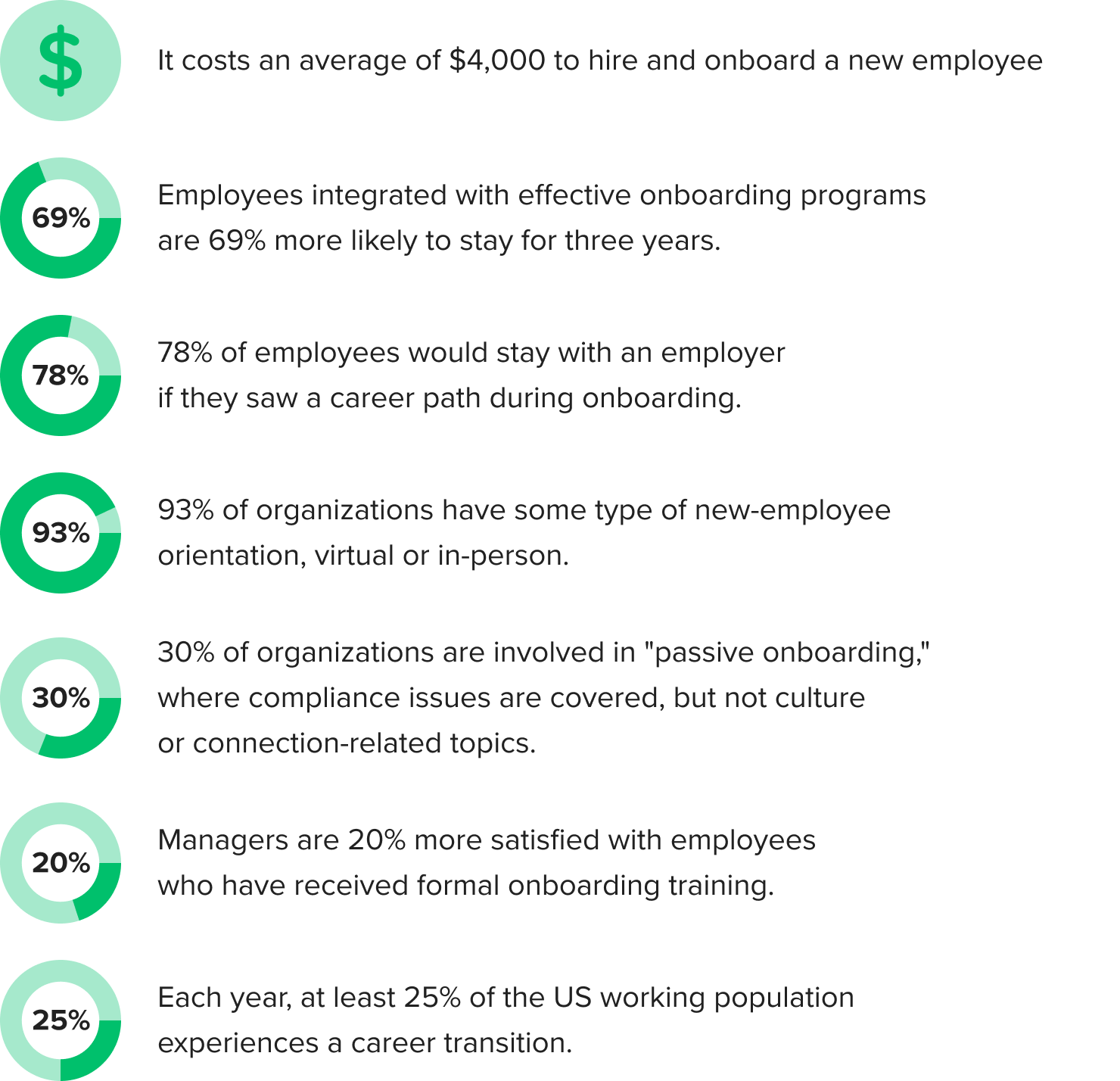 Benefits Statistics
It's hard enough finding an employer whose culture fits, let alone trying to figure out the benefits they offer. Employee benefits have become increasingly important when it comes to employee satisfaction and retention. Data from employee surveys has revealed that nearly half of employees will be considering changing jobs in the next twelve months due to unsatisfactory employee benefits. Not providing your staff with decent medical plans, retirement options, and other employee perks may cost you more than money - it could cost you your most valuable resource: your people! Companies should keep this in mind if they want to keep their team members happy and loyal.
What to Know About Employee Benefits in 2023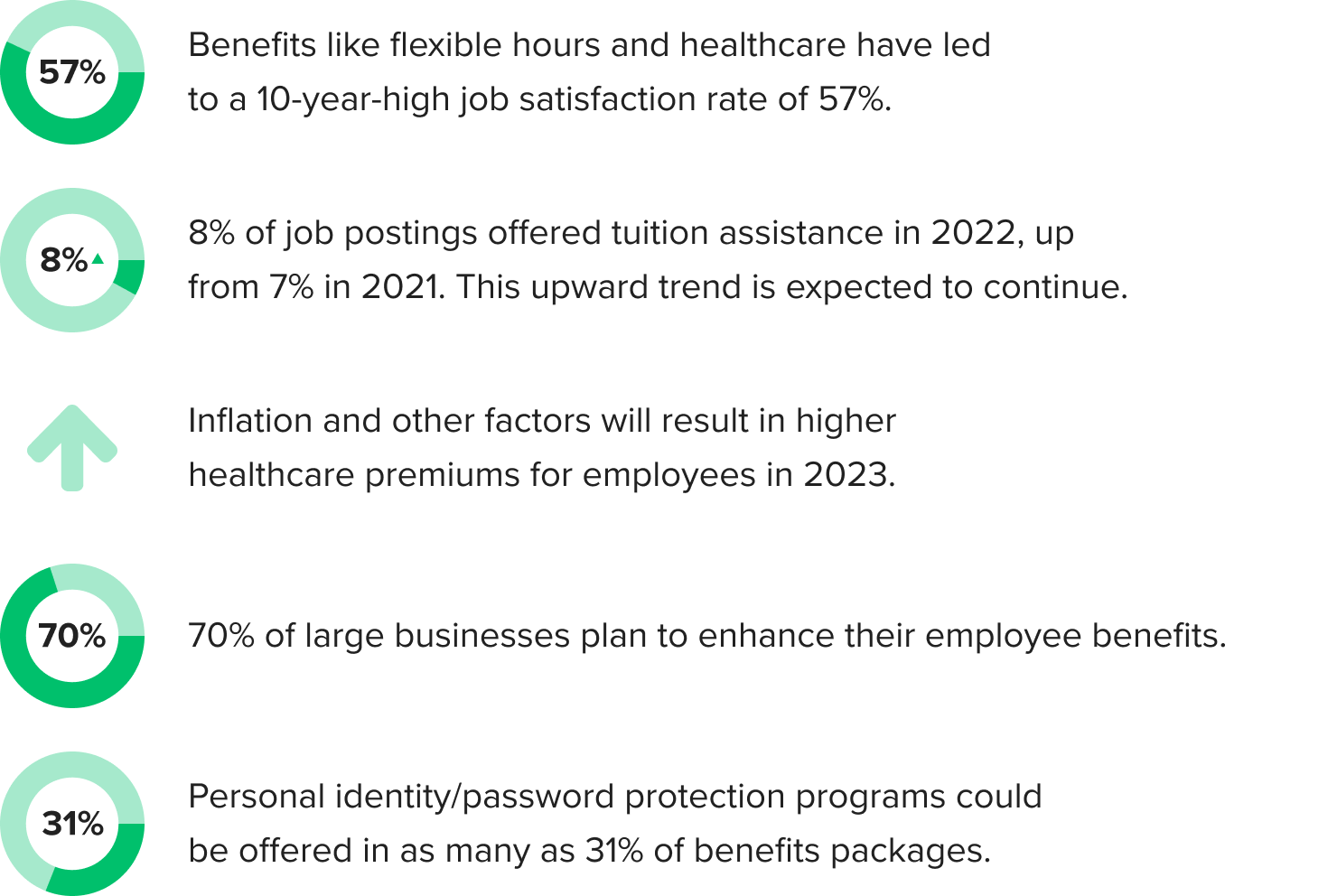 Payroll Statistics
It's no surprise that payroll trends have been significantly impacted by the COVID-19 pandemic. With a quarter of all workers experiencing payroll errors, payroll departments have had to rush to find new ways to update payroll information without error accurately. Despite their best efforts, payroll phone lines have seen an influx of calls from workers seeking help addressing payroll discrepancies as many find themselves underpaid or overpaid. This unplanned shake-up of payroll systems has caused strain on employers and employees, leading some people to take a payroll dispute into their own hands. Unfortunately, this isn't always effective when it comes to getting paid what you're rightfully owed. If payroll errors are left unresolved, the implications can be long-term and disastrous for anyone involved.

What to Know About Payroll in 2023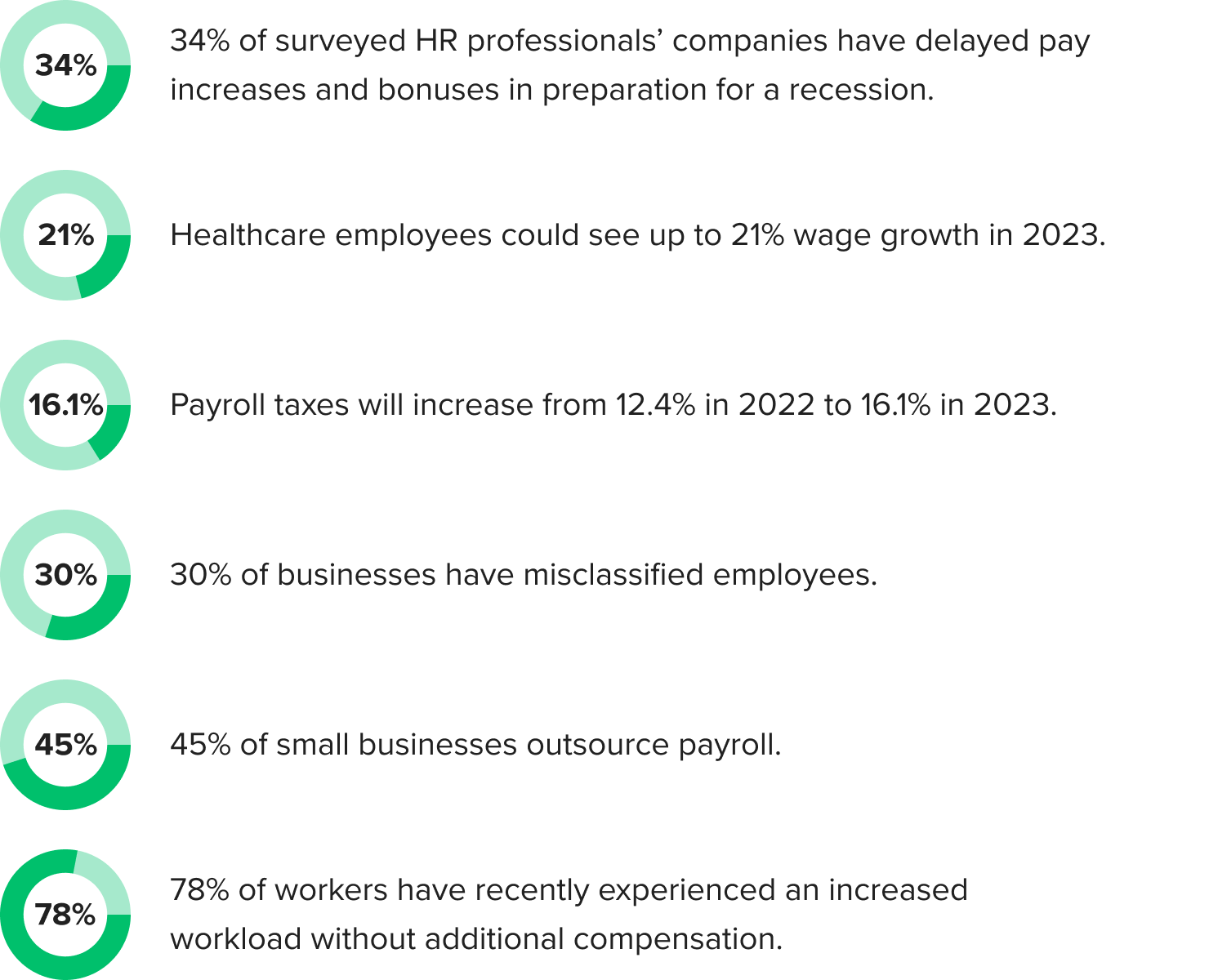 Time Tracking and PTO Statistics
Statistics show that 52% of people work during their "time off". That's astonishing! Working during PTO may pay some short-term gains like meeting tough deadlines or filling in gaps in staffing, but it could end up doing more harm than good. All too often the blurring of PTO, vacation time, and personal work time all become one and the same. Such a hyperconnected world makes it hard to disconnect from our professional lives; however, it's important to remember the importance of taking mental health days off, as well as scheduling proper time for relaxation!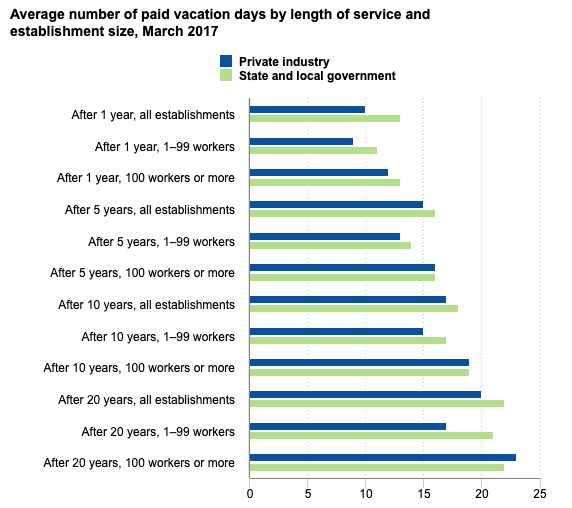 What to Know About PTO and Time Tracking in 2023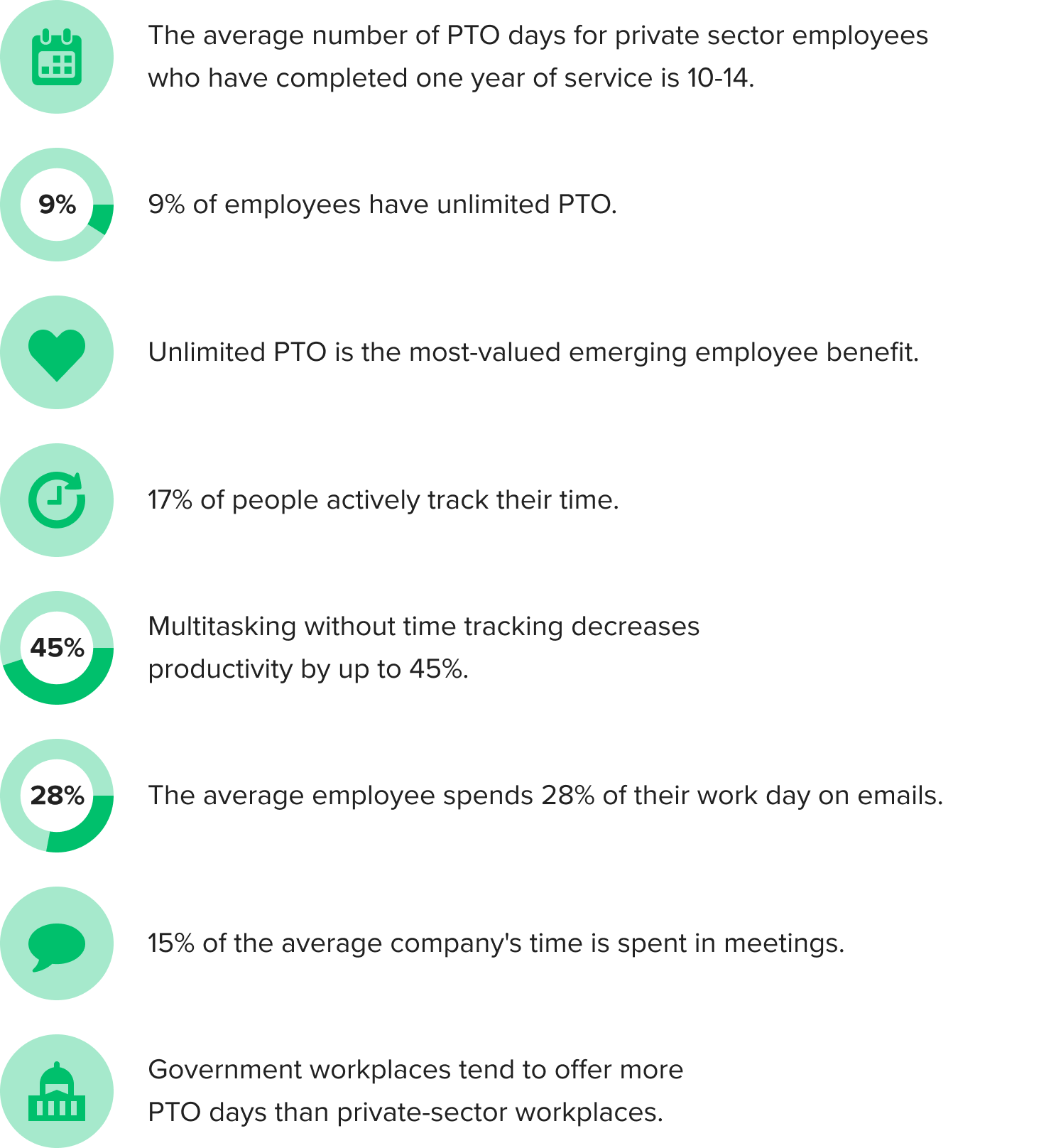 HR Compliance Statistics
Compliance can be a tricky area for HR departments to navigate. It's no surprise, then, that HR platforms have been growing in popularity in recent years – and the trend is only escalating. According to industry analysts, 46% of companies are now implementing HR platforms for compliance support, a dramatic 20% increase compared to the adoption rate seen just last year. HR technologies offer an invaluable modern tool to help HR departments streamline their compliance processes with ease. The benefits are too good to pass up!
What to Know About Compliance in 2023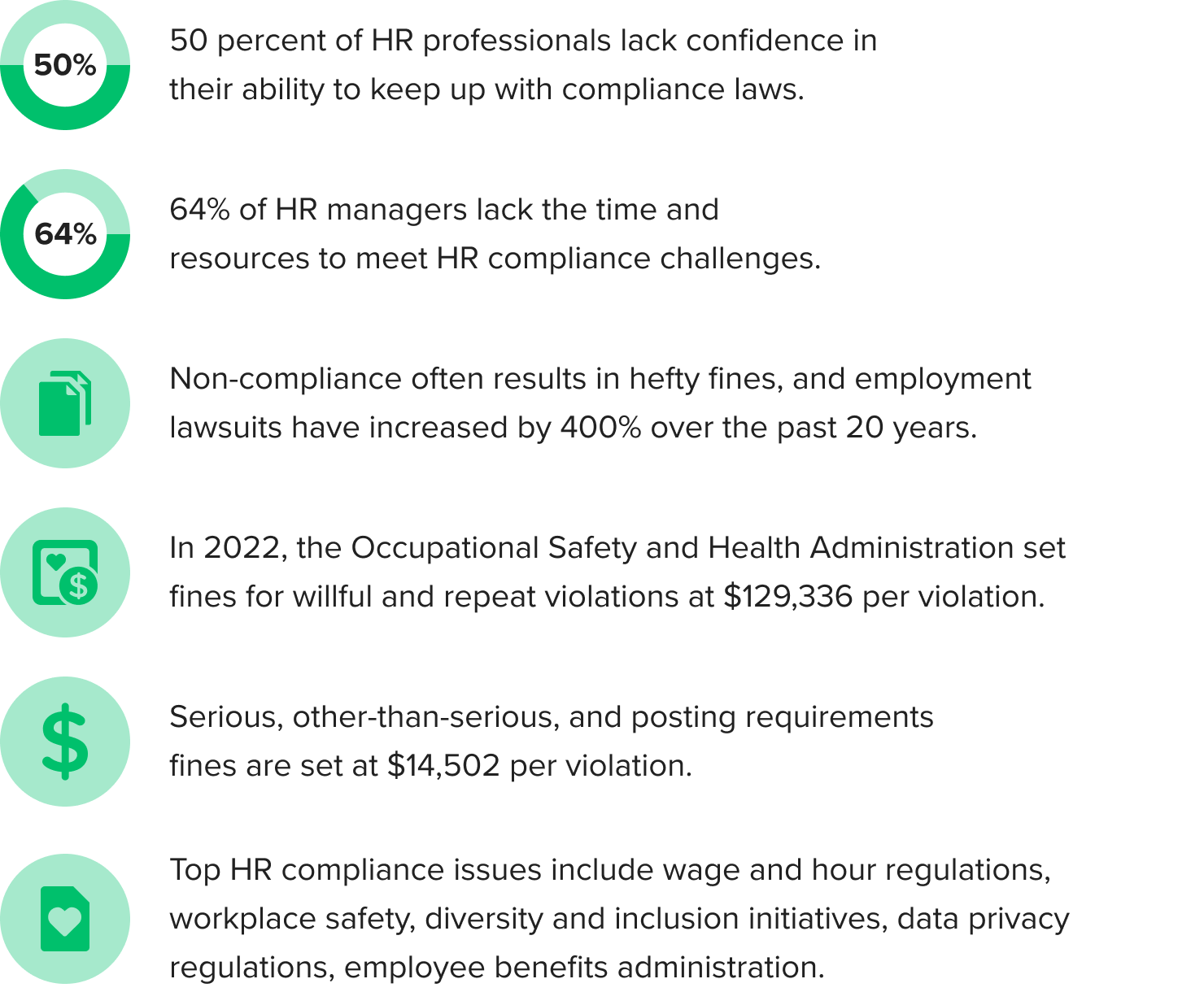 Performance Management Statistics
Performance management can make a world of difference in how employees feel about their job and organization. Studies have shown that giving daily feedback to employees, as opposed to annual feedback, increases engagement by up to three times. Managers should take the time each day to respond openly and honestly with constructive criticism, advice, and commendation when necessary. Doing so will help foster productive relationships between employers and employees that can drive the success of any business forward.
What to Know About Performance Management in 2023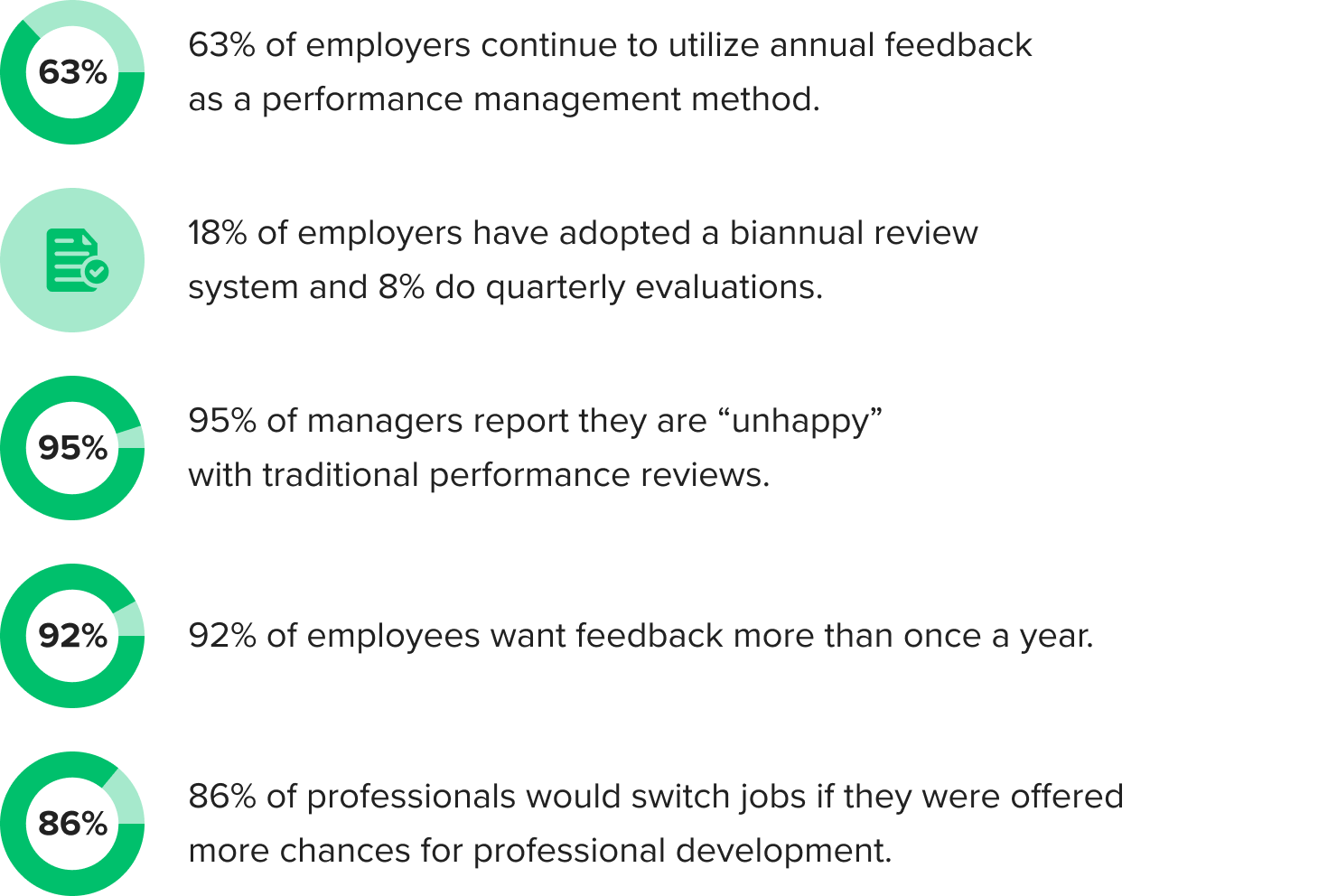 Employee Engagement Statistics
Employee engagement has a huge impact on business success and is not something to be taken lightly. Companies that focus on employee engagement see huge rewards, with a potential 23% increase in profitability. That kind of financial benefit can start the snowball effect - employee engagement leads to increased profits and that increased money goes right back into employee engagement efforts leading to even more success. It's clear then why employee engagement is so important for businesses; it's an investment well spent.
What to Know About Employee Engagement in 2023
Employee Retention Statistics
Employee retention is critical in today's competitive market. Studies have found that more than 25% of employees are at high risk of leaving their current employer. This is a concerning figure and indicates that something needs to be done in order to retain the best talent. Employers need to take a proactive approach by understanding employee motivations and seeking feedback on company culture in order to better engage staff. Investing time, energy, and resources into employee retention can pay tremendous dividends; from employee job satisfaction and well-being to boosting employee morale, productivity, and ultimately organizational success.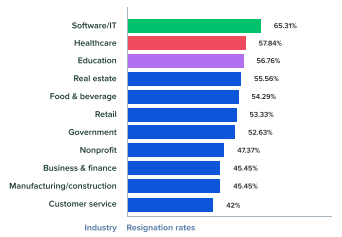 What to Know About Employee Retention in 2023
Work-Life Balance Statistics
It might come as no surprise that work consumes a large portion of our lives, but the sheer amount of time we dedicate to work on an annual basis is astounding. On average, a person spends around one-third of their life at work. It goes without saying that having a work-life balance is incredibly important to lead a healthy lifestyle, both physically and mentally. It's important to remember that our time on this earth shouldn't be spent entirely focusing on work-related matters. Each of us needs to find ways to make work productive yet enjoyable so that we can continue satisfying work commitments while also taking much-needed time for ourselves.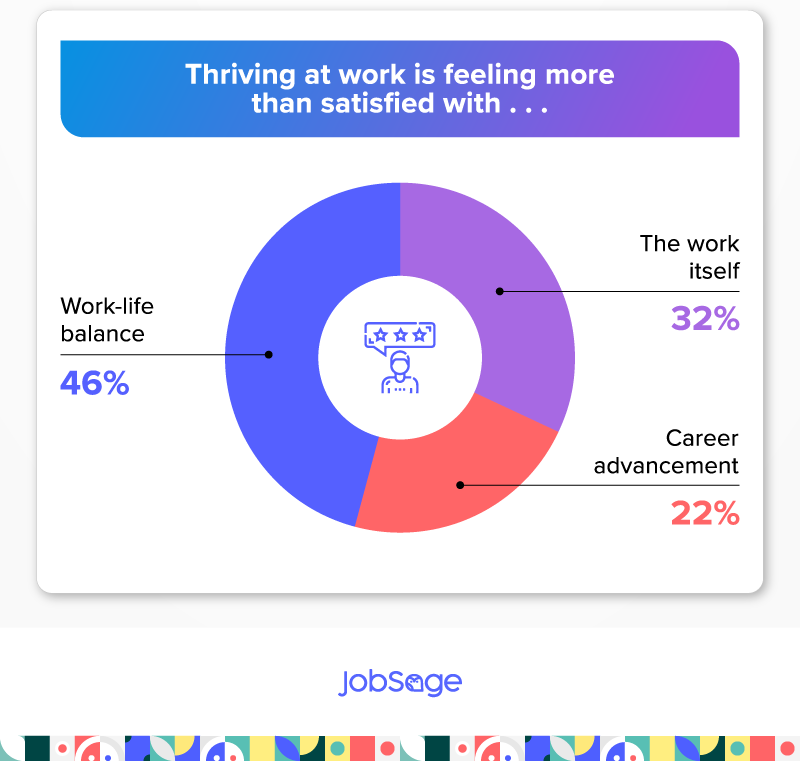 What to Know About Work-Life Balance in 2023
Health and Safety Statistics
A culture of safety in the workplace is a critical factor for any successful and thriving business. Not only does it protect employees on the job, but it also lowers turnover, increases workforce engagement, and contributes to a positive brand reputation. In order for an organization's safety culture to be effective, it should be part of the daily routine and involve everyone from top-level management to entry-level employees. Safety initiatives such as safety audits, safety training, and safety procedures need to be regularly implemented to ensure everyone is playing their part. Additionally, rewarding those who commit to safety protocols can play a key role in reinforcing a safety culture and promoting employee morale. With proper leadership and management support, businesses can create a safe yet enjoyable work environment for all of their employees and ultimately enjoy the economic benefits of a successful safety culture.
What to Know About Employee Health and Safety in 2023
HR Technology Statistics
It's hard to believe, but 36% of HR professionals are still missing out on the tech they need to make their job easier! A toolset tailored specifically for HR tasks can be a game changer when it comes to efficiency and effectiveness. A streamlined hr tech set should include centralized document management, payroll processing capabilities, performance management systems, and much more. With such resources in place at an organization's fingertips, hr teams can ensure employees' career growth is properly tracked and supported. That level of optimization is instrumental in helping organizations build great company culture - something that's well worth investing in.
What to Know About HR Tech in 2023
Final Thoughts
As we move further into 2023 and beyond, HR departments need to stay informed on emerging trends so they can make data-driven decisions about hiring practices and other personnel matters moving forward. By keeping these important HR stats in mind HR leaders can ensure success now and well into the future.
Companies should consider investing in solutions tailored specifically for their HR needs so that their employees can benefit from these advantages now and into the future. With advances in tech continuing to rise over the next few years, it's important to stay ahead of the curve when managing the employee experience. Take a tour of GoCo to learn how we can help you stay ahead of the curve in 2023 and beyond!
Recommended Posts