= 50)" :class="navScrolled ? 'lg:mt-20' : 'lg:mt-32'" x-transition >

Blog Articles
HR's Complete Guide to COVID-19
Everything an HR professional needs to navigate the pandemic
It's no secret that 2020 has been a year of major change for everyone. In a matter of months, COVID-19 has altered the core business functions of nearly every business. Human resources professionals in particular have found themselves adapting to new business operations, hiring processes, employee engagement efforts and work policies.
In GoCo's recent State of the HR Profession Report, 60% of respondents reported experiencing anywhere from negative effects to "devastation" as a result of the COVID-19 pandemic.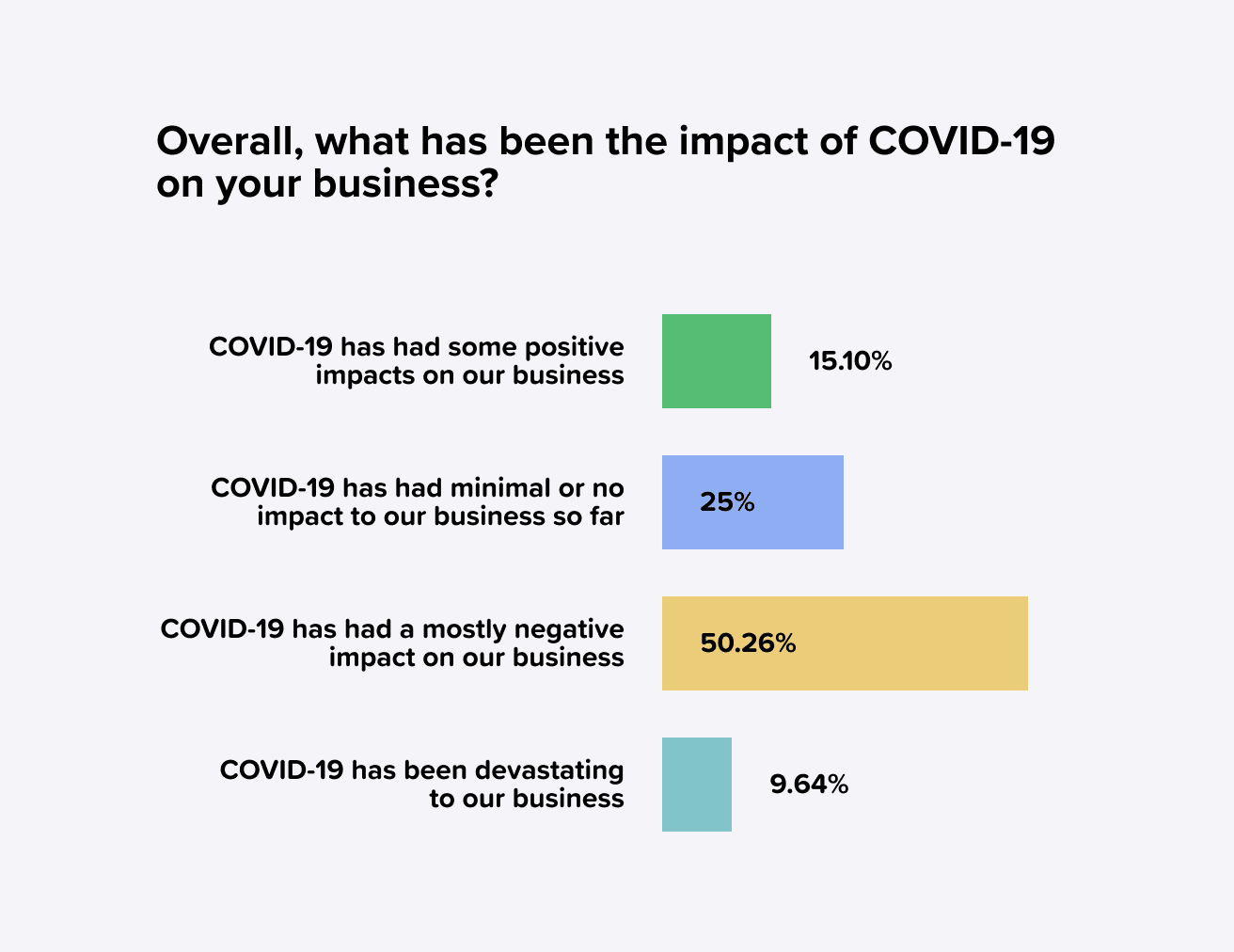 Additionally, our State of the HR Industry Report found that:
41% of HR professionals' primary concern during this time is understanding and staying in compliance with new policies and procedures

80% of survey respondents have adapted to the crisis by transitioning to remote work

25% of HR Professionals report laying off or terminating their workers' employment, and 29% report furloughing their workers

33% of HR pros use spreadsheets or paper to manage and keep track of HR info

50% of HR professionals are unsure how to track COVID-19 paid leave
Download the Full Report
GoCo's report proves what we already know: that HR professionals are extremely adaptive, resilient, and proactive. Even so, it's time to rethink your standard business processes and how to navigate COVID as an HR manager. We've compiled the ultimate guide so you won't miss a step.
HR's Role through COVID-19
A few major roles HR plays through a pandemic and beyond include:
Running an HR department remotely

Implementing remote work policies

Creating and rapidly distributing new policies to your workforce

Enabling employees to telework productively with minimal impact to the business throughput

Managing a high-achieving remote workforce

Adapting processes like hiring, onboarding, and performance reviews for a newly remote environment
Each small to medium sized business should be implementing and updating essential plans that are specific to the workplace, applicable to all areas and job tasks and include control measures to eliminate COVID-19 exposures. Seeking employee input about planned changes is a great first step, as is collaborating with business leaders to efficiently communicate important coronavirus-related information. The next steps can include making the physical workspace safe, supporting sick employees, shifting quickly to remote work settings, and continuing business operations throughout.

Making the Physical Workspace Safe
The primary goal for efforts within physical office spaces is to minimize the risk of transmission.
Remind employees of preventative measures including hand washing, avoiding touching their face, avoiding close contact with others, etc.

Ensure that your employees have facilities and can easily access supplies to wash their hands frequently

Accelerate and increase custodial services if possible

Stagger employee work times, breaks, and minimize crowding in common areas as much as possible
Supporting Sick/Symptomatic Employees during COVID-19
The EEOC has updated guidelines around strategies for navigating coronavirus in the workplace. HR pros can (and should!) use these guidelines to create policies to protect staff and the business. Encourage employees who feel sick to stay home, and keep them in the loop on relevant remote work PTO policies like the Families First Coronavirus Response Act (FFCRA). Provide your team with up-to-date resources for seeking medical attention -- remind them of any telemedicine benefits you may offer, temporary remote policies or self-quarantine instructions. Employers can ask employees to self-quarantine if they've traveled or appear sick, but there are some legal implications. Ensure that you create and update policies that reflect current safety concerns.
Find additional HR FAQ's for COVID-19 here.
Facilitating Professionalism When Working Remotely
Remember to adjust your mindset and trust your talent while everyone's working from home. Understand that there will be a balance and an adjustment period, and that not everyone's remote situation is the same.
Set clear expectations for what is expected of your team during temporary periods of remote work

Make sure remote work technology is easily accessible to all. This means anything from video meeting applications to chatting platforms. The right technology can foster communication and bring a sense of normalcy to your day-to-day.

Assign goals, track performance remotely, and revisit goals in the same way you would face-to-face.
Read the full guide to automating performance management through COVID-19.
Providing Guidance for Positions That Can't Work Remotely
For some industries, going completely remote may not be a feasible option. From manufacturers to retail businesses, your business may not allow for fully remote staff. In cases like these, make sure you revisit opportunities and reassign duties so that everyone can continue to work. Be as explicit as possible when developing policies around who can work remotely and who can't.
Review the Complete Guide to HR's Role through COVID-19.
Communicating New Policies to Employees
In a time of uncertainty, it's important to respond quickly, consistently, and make yourself available to any concerns employees may have. Modern HR software like GoCo makes it easy to create new policy documents, send them out swiftly, and easily keep track of everyone who has acknowledged them.
Watch our virtual webinar to learn how to implement a remote work policy in an emergency situation.
Now that we've covered a few of the major roles HR managers play through a pandemic, let's not forget that the majority of professionals we surveyed are concerned about staying compliant with new coronavirus-related legislation. Here's an overview of everything you need to know!
Federal Updates & Legislation
What is the Families First Coronavirus Response Act?
The FFCRA is emergency legislation initially passed by Congress in March of 2020 to help navigate and address the global spread of the COVID-19 virus. The law requires applicable companies to provide employees with the following (for reasons related to COVID-19):
Emergency Paid Sick Leave (EPSL)

Emergency Family and Medical Leave (EMLEA)
What are employees eligible for under the FFCRA?
All employees are eligible for up to 2 weeks (or 80 hours) of Emergency Paid Sick Leave. Pay rate depends on multiple factors including whether or not the employee is experiencing symptoms themself or caring for family members.
Employees who have been at the company for longer than 30 days are also eligible for up to 10 additional weeks under the EFMLEA. Again, pay rate depends on whether the employees themself are experiencing symptoms.
Who is required to abide by FFCRA Law?
FFCRA applies to private employers with 500 or less employees, along with certain public companies. The DOL has indicated that there are exceptions around providing leave, for example, for businesses with fewer than 50 employees in which the viability of the business may be jeopardized. Employers must also post this employee rights notice in their offices.
Read GoCo's complete guide to the FFCRA to learn more about:
Qualifying for the Small Business Exception

Duration of COVID-19 Paid Leave

Calculating payments

Tax credits for Employers

Health plan benefits

Paying employees for leave under FFCRA

Updates and amendments to the initial ruling
How can I track & manage COVID-19 Paid Leave?
Recent legislation around COVID-19 works to strengthen and further enforce protections for sick leave. The new laws work to help employees obtain sick leave benefits. GoCo's new emergency paid-leave tracking feature aims to help businesses stay compliant with FFCRA.
To successfully track and manage COVID-19 paid leave within your business, HR pros are tasked with:
Calculating the correct amount of leave time

Giving employees the power to easily request EPSL and EFMLA digitally

Asking employees to provide correct documentation

Allowing employees to select from government approved/compliant reasons for leave requests
Learn how to streamline these steps with GoCo's COVID-19 Paid Leave at https://www.goco.io/covid-19-paid-leave/.
How do employers get reimbursed for COVID-19 paid leave?
The U.S. Department of Labor and IRS provide eligible businesses with tax credits (applicable through 2020) to cover the cost of sending employees away on paid sick leave.
You can claim the refundable tax credits on all paid leave wages throughout the applicable period in 3 easy steps:
Compile a report on leave wages. Eligible employers should compile qualified leave wages for each quarter on their federal employment tax returns.

Report related credits. After calculating qualified leave wages for the quarter, employers need to calculate the related tax credits.

File Form 941. The form is used to report income, social security, and Medicare taxes that the employer withholds from staff wages.
Eligible employers can additionally fund the qualified leave wages by accessing federal employment taxes, which they would need to deposit with the IRS. This is done in anticipation of receiving due tax credits.
Download the complete guide on how employers can get reimbursed for COVID-19 paid leave for thorough instructions
around obtaining an advance on refundable tax credits, coverage for employers, quick funds, and protection for small businesses.
Furlough, Layoffs and Hazard Pay during COVID-19
While language like "temporary layoff" and "shortened work hours" may be familiar to some, it can be a challenge for HR pros to communicate and understand the difference between a furlough and a layoff.
| Furlough | Layoff |
| --- | --- |
| An alternative measure to layoff or employment termination, where companies either reduce employees' work hours or give them a period of unpaid leave | Terminating your worker's employment either temporarily or permanently. Temporary layoffs can happen if your company closes down entirely but plans to reopen for the future. |
| Employees are technically still employed, and the company intends to bring them back after the leave period. | Employees are not guaranteed to be rehired. |
| Employers have liberty to set specific terms regarding benefits, the length of furlough, and whether it will only apply to specific departments. | In some states, the business must pay out any accrued PTO. Review state laws to stay compliant. |
| HR pros must draft a document to communicate these terms clearly. | HR pros must draft a document to communicate these terms clearly. |
Review the full guide to common questions around furloughs and layoffs here.
As we previously mentioned, not all employees have the ability to work from home. Because of this limitation, many in-person employees are asking for additional compensation (Hazard Pay) concerning potentially increased risk of exposure to the coronavirus.
Though federal and state laws both do not require companies to provide hazard pay, employers may decide to offer it as a way to recognize their employee's commitment to work throughout the pandemic.
Learn more about hazard pay, employee eligibility, and government laws and see if it makes sense for your
business.
Maintaining Healthy Business Operations
during COVID-19
Now that we've covered relevant legislation, let's go over tips and considerations to help HR managers responsibly maintain business operations while being sensitive to new circumstances. Standard HR processes may appear more difficult with the raging pandemic, but have no fear! Digital HR software like GoCo can help facilitate manual HR tasks, as well as streamline workflows from remote onboarding tasks to return-to-work checklists. Here are some tips for maintaining healthy and efficient business operations.
Create and Send a Remote Work Policy
Though the process to building a remote work policy may look different for every business, here's a step-by-step list we followed at GoCo when creating our remote work policy for the coronavirus.
Gain leadership support. Invite your leadership team to discuss your COVID-19 response plan. Share ideas to decide when, if, and how you will go remote if appropriate

Communicate about policies and resources for support. Outline a communication plan to remind employees of existing or new remote-work policies.

Research best practices. Listen to employee feedback and research the web or SHRM to find best practices for remote working.

Take a role-specific approach. Every role has its own unique needs -- make sure this is reflected in your policy. Think through a fall back plan on a case-by-case basis.

Publish and send policies in your HRIS. This is the best way to make sure employees see and acknowledge all relevant information.
See how GoCo's People Operations Specialist built a remote work policy that made sense for our business.
Streamline Your Remote Employee Onboarding Process
The process of welcoming and onboarding remote employees may look quite a bit different from what you're used to. Here are a few crucial steps to help new hires feel welcome, even if they're working from home.
Create an onboarding program with goal tracking. Your remote onboarding plan should include 30/60/90-day checkpoints, regular video and email check-ins, and real-time goal tracking.

Provide access to your company's online assets. Make sure your remote new hires have access to training videos, blog posts, and any platforms that are necessary for them to successfully do their jobs.

Schedule a remote employee orientation session. Give your employee the new hire orientation experience from home. Set up video chats, agendas, and send digital documents of all policies, handbooks, and company information that may help your employee get acquainted. GoCo's workflows feature allows you to streamline new hire orientation for a consistent remote onboarding experience every time.

Send all relevant compliance forms digitally. Maintain compliance with government tax authorities and labor laws.

Create an onboarding video to showcase company culture. Even though you may not be able to gather as an entire company, give new hires a glimpse of your core values with a unique onboarding video.
Investing in an HR onboarding platform can streamline manual processes and reduce the amount of paperwork needed in onboarding.
Automate Employee Requests
If 2020 has taught us anything, it's that efficiency is key. HR managers already have their plates full with "typical" HR duties, and the shift to remote work only adds a new list of tasks. Navigating COVID-19 efficiently could mean automating employee requests for HR pros to focus on higher-value activities and employee engagement efforts.
Typical employee requests include:
Travel Requests

Professional Development & Training Requests

Bonus & Compensation Change Requests

Role-Change & Promotion Requests

IT Access Requests

Reimbursement & Expense Requests

Bonus Requests

Equipment Requests

Supply Requests
Without a streamlined process for managing these workflows, both employees and HR managers may run into delays and other issues. Having a streamlined process for submitting and tracking requests during COVID can help tremendously by giving employees a clear understanding, as well as giving HR a more organized place for consolidating requests.
With HR software like GoCo, it's easy to begin streamlining employee request workflows.
The Importance of Streamlining Your HR Checklists
Similar to managing onboarding and employee requests, most HR professionals have detailed lists for all HR processes, including benefits administration, time tracking, payroll, and more. COVID-19 has brought issues with managing tasks, efficiency, and productivity to the forefront. Here are some major ways your COVID-era business will benefit from streamlining your HR.
Focus on what matters. Streamlining tasks like creating customized onboarding documents or collecting payroll information allows talented HR employees to reduce burnout on admin work to focus on strategic work.

Keep everyone on the same page. HR checklist automation allows you to easily send updates and track information in one place.

Make compliance easier. With the new coronavirus-related regulations we explained above, automating workflows from start to finish can help you easily track and update data for accuracy.
Read more on why it's time to take the leap and streamline your HR checklists.
Protect HR Data through COVID-19
Maintaining a healthy business through the pandemic also means addressing and acting on potential new risks with remote work environments. Amid these changes, remote work has opened doors to unforeseen cybersecurity risks, including:
Wi-Fi Related Security Incidents

Password Attacks

Phishing Attacks

Browser-Based Attacks
… and many more! While these developments have heightened cybersecurity risks, HR professionals can stay ahead of the game by transitioning to an HR software that takes effective measures to prevent valuable information from being compromised.
Strong HR data protection through COVID-19 means your HRIS should be running on a modern infrastructure for cloud-based applications, offer secure data with two-factor authentication, be certified with SOC 2 certifications, and utilize certified data centers among other things.
Don't know where to start with HR data security as your team shifts remote? Read our comprehensive guide to HR data protection here.
Create a Return-to-Work Plan/Checklist
If reopening your business is a viable option again, you may be looking for guidance on how to best transition employees back to work safely, whether they were teleworking, furloughed, or temporarily laid off. Before companies rush to establish a "new normal" in the office, here are some major considerations for reopening your office:
Monitor federal, state, and local orders closely. Make sure you continue to stay compliant with the law and follow all CDC guidelines and best practices.

Determine whether it's absolutely necessary for employees to return to the workplace. Evaluate your options, and err on the side of caution if possible. If employees can productively telework or work remotely, allow them to do so for as long as possible.

Discuss and plan company budgets for workplace staffing. Again, safety should be top priority, so make sure you think through this as you bring employees back.

Gauge employee response. Employee feedback should be equally as important to you as the law -- try your best to understand how they're feeling about returning to the office in these anxious times.
After you've evaluated your options, if returning to the workplace still makes sense, it's time to create a streamlined plan. Any plan should include:
A clear timeline for returning to work (staggering, phase-structuring, etc.)

Options and plans for high-risk employees

A clear description of workplace-safety measures and CDC guidelines

Clear protocol around employee responsibilities and plans for potential on-site COVID-19 cases

Access to health resources that are useful to employees
We recommend you communicate this return-to-work plan through your HRIS so that every employee can easily access it digitally.
Review our additional COVID-19 return to work resources:
Maintaining a Healthy Work Environment
during COVID-19
In addition to maintaining healthy business operations and standardizing HR workflows through COVID-19, it is equally as important to maintain a healthy work environment, whether in-person or remote. A healthy work environment encompasses anything from frequent mental health check-ins to handling tough conversations remotely. The first step in maintaining a healthy work environment, both physically and mentally, is to keep your employees informed with all policies and updates. Make sure you have created a mask policy, return-to-work policy, essential employee authorization letters, and COVID-19 infection template to stay prepared.
COVID-19 Essential Employee Authorization Letter
Some government agencies have suggested that employees be given an essential employee authorization letter stating they are part of an essential business and required to be in public to perform their jobs. If you're thinking of drafting up a letter, we recommend checking your local government website to understand the criteria for being an "essential business", and if your company applies. Additionally, HR professionals can consistently check to see if any specific documentation becomes required.
GoCo's sample essential employee authorization letter template gives you an overview of what you might want to include in your letter.
Coronavirus Mask Policy for Employees
COVID-19 spikes in cities all over have spurred new regulations requiring the use of face coverings for all employees and customers. How should an HR manager enforce the rules? Creating a face mask policy that provides clarity on what is required of employees can help make the new regulations less daunting.
Your mask policy should be tailored for individuals in a physical office or workplace. Provide resources and sources on where the guidelines are coming from, including:
CDC Recommendations

State and Local Legislature

OSHA requirements
You should also clarify what is expected of employees, including areas where a mask is required, and what qualifies as a proper mask. Additionally, educate your employees about the proper way to use masks.
Here's an example of what a coronavirus mask policy should look like.
Letter to Employees for COVID-19 Infection
Your full transparency means a lot to your workforce. As COVID-19 numbers continue to rise, it's realistic to create a clear plan of action if a staff member tests positive. While it may not be easy to break the news to your employees, you are expected to do so in a sensitive and informative way.
Be Supportive

Complete a Risk Assessment

Review Company Policies
HR managers should send an email to employees to notify them of the current situation.
Review our sample letter to employees for COVID-19 infection here.
Employee Engagement through COVID-19
Embracing the work-from-home lifestyle will be much easier for some employees than others. To keep employees motivated and to keep morale high, HR professionals are having to come up with creative ways to keep the workforce engaged. Here are a few of our tips for keeping employees engaged:
Create space to talk about what's going on in the world. Start each meeting by asking how your team is feeling, and take note of how you can better support them.

Encourage activity and physical movement. It's easy for employees to stay sedentary all day when they're in the comfort of their own homes. Host walking 1:1s and talk on the phone when you can, so team members have the chance to get moving.

Utilize virtual communication tools. From video meetings to team communication tools, ensure that your teams can interact easily. Employee management software like GoCo is also a great way to send employees notifications and documents while remote.

Offer virtual coffee breaks and happy hours. It may not be the same as an in-person hangout, but having chit-chats and brain breaks throughout the week with your team can be a great way to destress.

Offer online training options for employees to take the opportunity to improve their current skill set.
Read more pandemic-era employee engagement resources below:
Supporting Employee Mental Health
Mental health may be at an all-time low during COVID-19 when employees are feeling socially isolated and unmotivated. It's extremely important to focus on your team's mental well-being with everything you do. Encourage and remind employees to breathe, meditate, walk, talk, get outside for a bit, and to wash their hands. If your company offers benefits like MDLive, mental health support, or meditation applications, remind your employees that these resources are available for them, even from home.
We recently partnered with Headspace to offer guided meditation subscriptions to our employees. Additionally, reach out to your team and provide incentives to encourage connections. From weekly surveys to Walk & Talk challenges, spice up everyone's day-to-day by allowing your team members to stay connected and have a friendly competition.
See how our People Operations Specialist is supporting employee mental health in the crisis.
Tough Zoom Conversations
HR Pros may also be burdened with the difficult task of having to deliver hard news to employees over video conference. Whether it's a layoff, a performance review, or a furlough, it's important to handle these situations with care, even from afar.
Treat these meetings as if they are in-person

Be sensitive about the place and time

Encourage feedback and two-way communication

Encourage humanity behind the screen
The best approach to take when having a tough conversation over the phone or video is to be honest, listen, and offer solutions. The way you handle these interactions will reflect on you and the company.
Read more tips on handling tough conversations over Zoom here.
When Employees Are Afraid to Return to Work
It's natural for employees to feel anxiety about returning to work in current circumstances. How you alleviate fears and work with employees who may need accommodations is crucial. As an HR pro, your team will be looking to you for understanding and guidance during these times. Here are a few considerations to think through:
What if employees are afraid of infecting others? Make sure your employee is well versed on the return-to-work plan, mask policy, and any other precautions you're taking to minimize risk.

What if employees are afraid of getting infected? Again, it is your job to provide employees with options to work from home if possible, and also keep them well versed on any relevant legislation, including the FFCRA and EPSL.

How do I communicate with employees? Remember to document and take notes on employee feedback, fears, and other notes. If you have a modern HRIS like GoCo, your return-to-work policy should be easily acknowledged and give employees more peace of mind.
Here are a few more tips on what to do when employees are afraid to return to work.
Conclusion
The pandemic has forever altered the lives of many, and it has certainly created additional considerations for HR departments and employers. Though some of these tasks and regulations may seem daunting, it's important to acknowledge the difference you can make for your team, your business, and even yourself. Moreover, many components of a comprehensive COVID-19 HR plan are applicable to HR in general, or other crises that may occur. Maintaining healthy business operations and work environments is completely doable with the right resources.
If you're unsure how to manage new laws, policies, checklists and workflows throughout COVID-19, it may be time to invest in an all-in-one HR platform like GoCo. GoCo's HRIS can be managed fully digitally, which cuts down the amount of time spent on paperwork and manual HR processes. By automating things like COVID-19 paid leave tracking. Take a tour today to see how GoCo can help.